I definitely don't need any more engines but I still check out 3 rail locomotives on ebay just to see what's about.
I came across a Jinty based on an HD 0-6-0T which had been 3 railed. Now I have a 3 railed Triang Jinty so definitely did not need another but this one was in Crimson Lake so I put it on my watch list.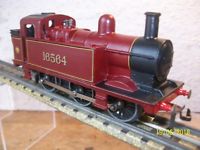 I put in a bid fairly early on but was soon outbid and the final price was £107 plus postage. Which I thought was staggering.
Well at the same time Rails of Sheffield was listing a Hornby LNER B12 3 railed at a BIN price of £39.50 and postage of £2 so I went for it.

It is in very good condition with added crew and lights and runs perfectly over points and diamond crossing but like all modern stuff has poor pulling capacity although it is OK with 2 or 3 Trix coaches. Need to add some weight to the loco,
So £107 for a Jinty or £39,50 for the B12 – ebay is a funny old place but it induces you to buy engines you don't really need.
The B12 pulling a Triang converter wagon and two Trix maroon coaches. Behind  is a Black Five also a Hornby conversion but this one is tender drive whereas the B12 is engine drive.