This section includes Gaiety, Graham Farish and Trix Twin engines. All of these engines are contemporary with HD. The newest being the first one we look at.
Up until 1994 I had basically collected and run Hornby Dublo and Wrenn Locos some of which had been repainted and re-bodied. Looking back, my first "modern" loco was a Trix-Lilliput model of The Flying Scotsman.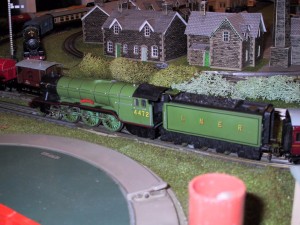 Now Trix have been around throughout the period of Hornby Dublo and after from before the war until the current times but they have been the subject of many owners, many systems and even scales. Trix Twin started as a 3 rail system but a different 3 rail to HD. The track was bakelite based and had a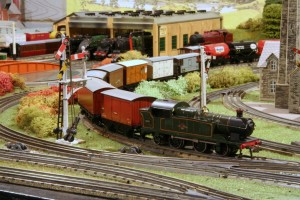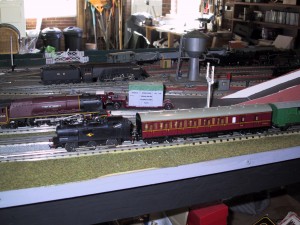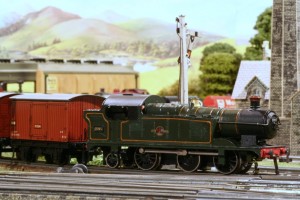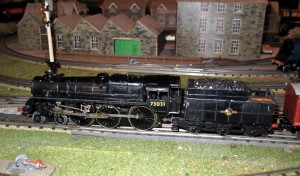 centre pickup rail and two other rails were separately earthed. This meant that two trains could run on the same track. Trix also had very large wheel flanges which made them completely unsuitable for running over HD points. The post war versions also had the option of fine scale wheels which made them suitable for HD track. This particular model was after Trix had been bought by Liliput and is an OO model. Many of the earlier Trix models some of which I have and are shown below are HO scale or even intermediate between the two. This link gives further information on the Trix system.
After the Express Locos I focused on Tank Engines and small tender engines. So next came the GWR built o-6-2T in BR livery from Trix Twin. This is supposedly a HO model but its size is very close to the HD N2 loco so I have always thought of it as close to OO gauge. This is a genuine Trix 3 rail loco with slight modifications to the loco pickups to enable it to run very well on HD track.
The next loco is the Trix model of theSouthern E2 loco and this is definitely in HO scale it is also plastic unlike the diecast one above. This is a 2 rail engine which has been converted. Small but a nice little runner with a single or a couple of carriages. It is in late BR logo livery with no number. I think this means that it has been fiddled with at some time because it should have a number.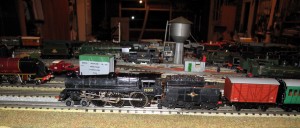 The final Trix engine is a BR Standard 5MTtender engine with a very heavy diecast body making it an excellent runner although it has been converted from 2 rail. The paintwork is a bit tatty but overall it is an impressive engine.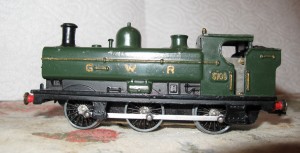 Now we move onto Gaiety Engines made by Castle Arts of Birmingham They only made a model of a GWR Pannier Tank and their version of the N2 tank engine. My one has an original 3 rail chassis which means that it is a bit noisy and slow but runs and it does look the part. I also have another one with a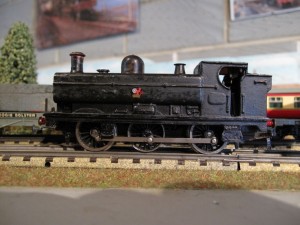 modified body and running on a HD 0-6-0T chassis. It has been re-painted, not that well, into BR black. The extra weight of the body much improves the running of the HD 0-6-0 chassis.
Finally in this section we have another GWR Panier tank engine, a different series to the Gaiety ones, but this time made by Graham Farish. This company started in OO gauge in the 50's and produced a good range of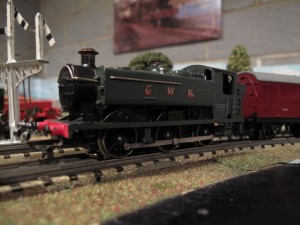 models including some tender engines with a shaft drive from the tender to the engine. This was very complicated and there are few that have stood the test of time. This tender engine is in excellent condition and a great runner, it was probably converted to 3 rail from new.
This section includes Triang, Airfix, Mainline and Hornby engines all produced in 2 rail but converted to run on my 3 rail layout. The majority are tank or small tender engines to fill the gap left by HD in their meagre tank engine line up. There might just be an Express passenger engine or two but they are always interesting and liable to be added to the layout.
Before we start with my locos lets get the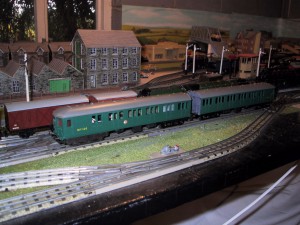 history of Triang out of the way. This was a link but the site has closed down but this link gives an overview of Triang railways.
In simple terms Triang was the total enemy of HD – no HD collector would consider Triang (cheap plastic trains) and vice versa (expensive old fashioned 3 rail). But time has passed, the rivalry has cooled and Triang had some interesting engines plus EMUs and DMUs so it was always worth exploring possibilities of 3 rail versions of their engines.
If we go back to the prototype railways of the 50's and 60's we find that BR tried very hard to keep branchlines viable and therefore open to traffic by substituting steam with diesel rail cars. The chronology of events in BR provides a very useful and brief overview of the many things that happened during the BR reign. Thus a Triang DMU fits well into the time period in which Dublo exists. Also the Southern Region of BR had a vast network of 750V three rail electric lines with large numbers of EMUs both on commuter services to London and long distance services to Southampton and Bournemouth. Later the Hastings line was dieselised freeing up steam engines like the Schools class and replacing them with DMUs. The Triang EMU I have is a two car version but Triang did make a centre car allowing it to be a 3 car or even a 4 car unit. Hornby Dublo also had an EMU which was introduced very nearly at the end of HD and is thus very rare and therefore very expensive. I make do with the Triang version. Both of these conversions seem to be a bit tricky and I have to admit neither of these models run very well.
Lots more to add in this section but not of the greatest interest to Hornby Dublo collectors.
I was asked in the comments to post some pictures of the types of pick ups used for conversion from 2 rail to 3 rail. So here goes.
The first one is a
Hornby M7 converted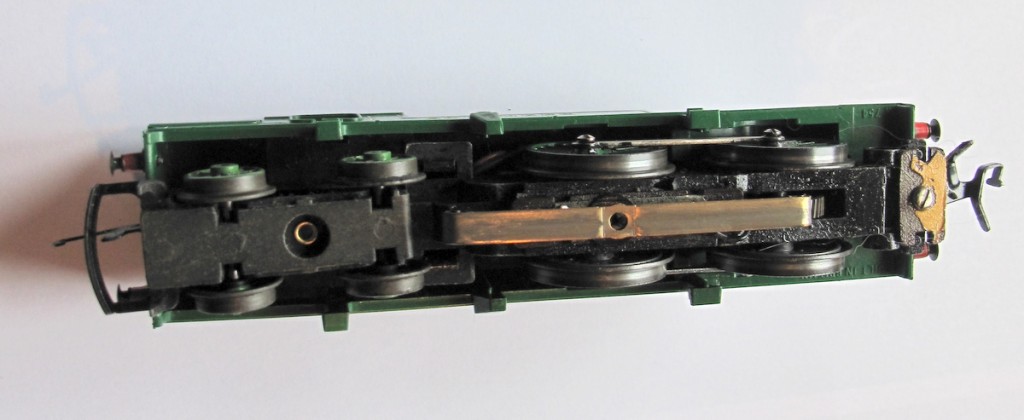 using a Marklin full size skid.
Then we have a Hornby London Transport Pannier Tank converted using springy metal with cups on the ends.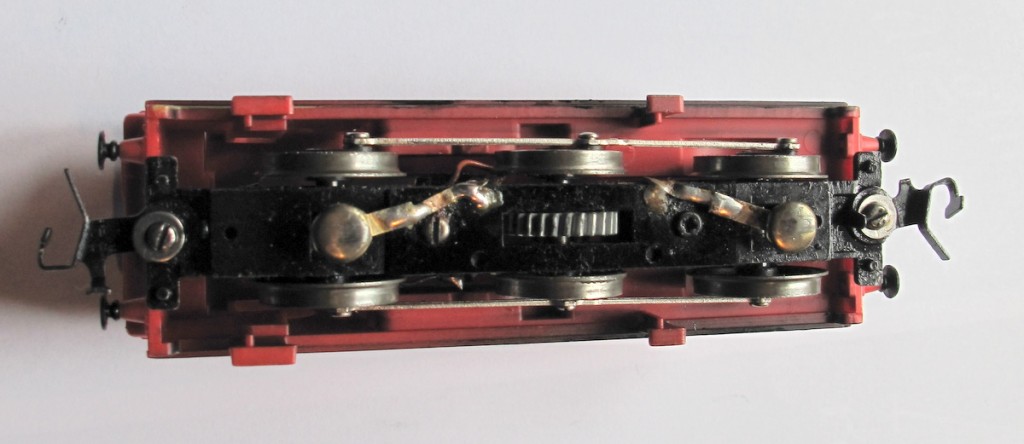 A Triang Jinty uses a similar system.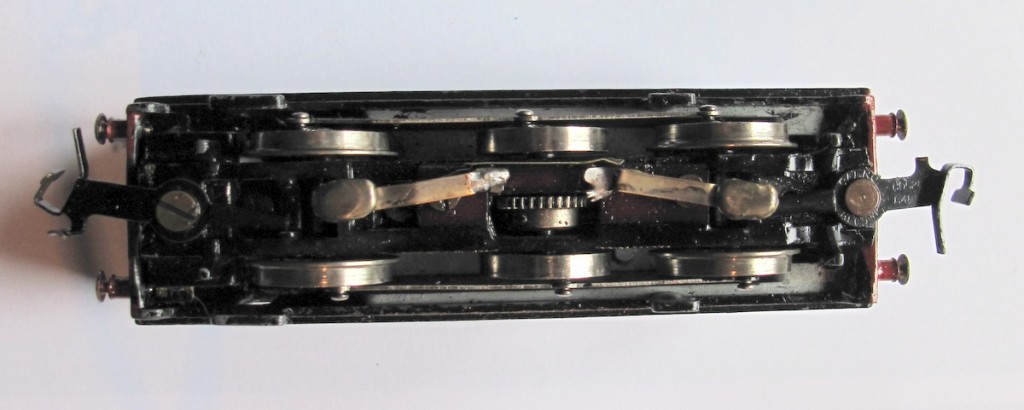 A Graham Farish 0-6-0PT, same idea but execution is a bit grim.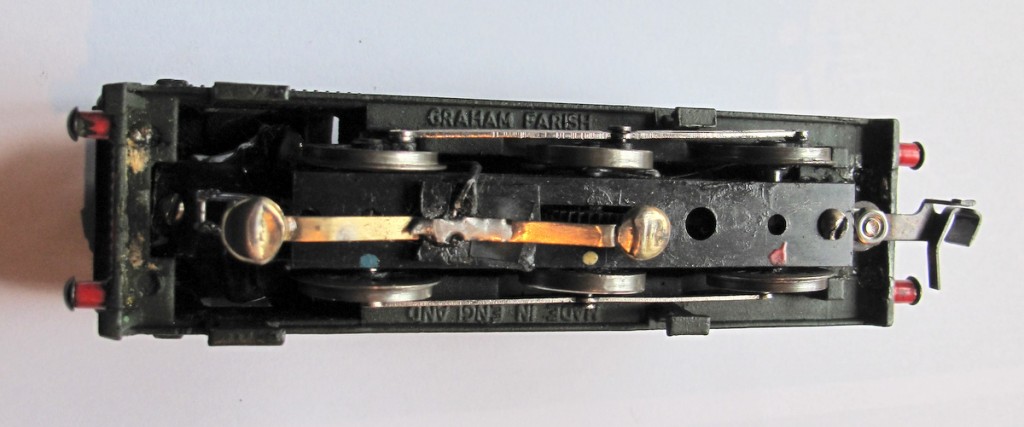 The basic springy metal pick-up as seen on an Hornby N2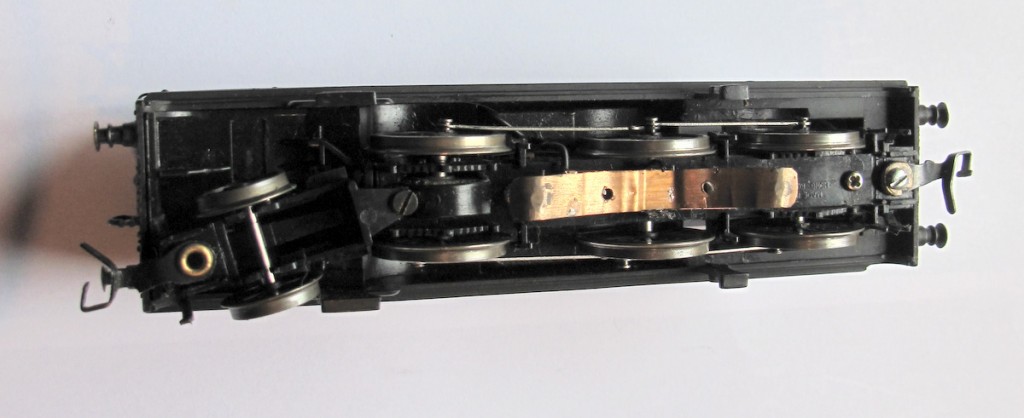 A Trix 0-6-0T with an original pick-up.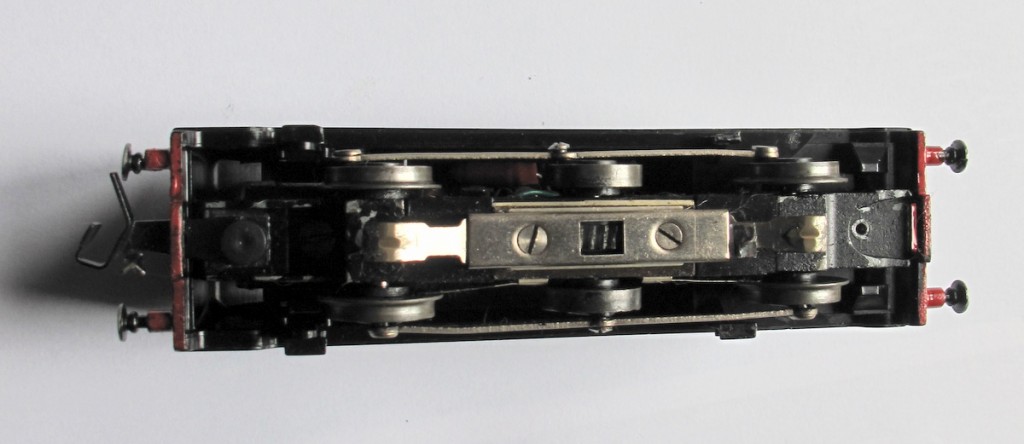 The conversion of the HD 2 rail 0-6-0T shows each possibility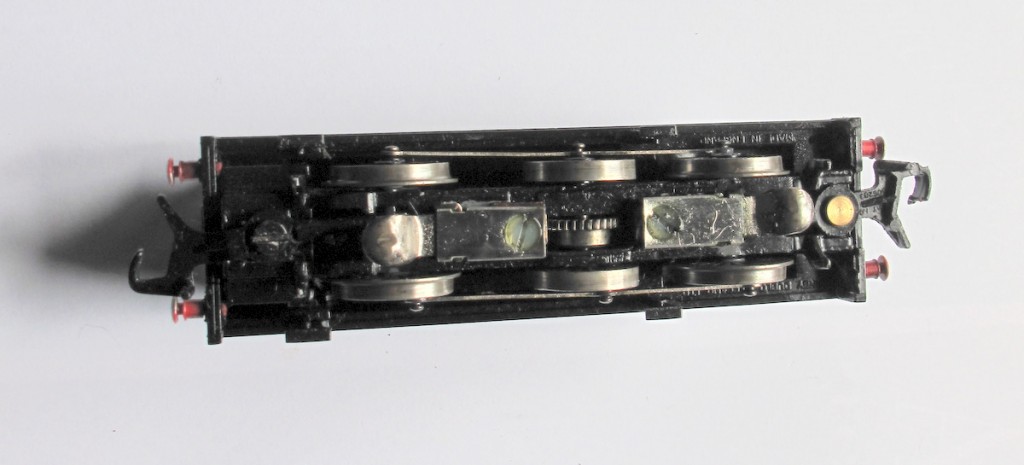 Above we have the official conversion using two small HD pick ups
Then we have the Marklin skate but probably a carriage skate rather than a loco skate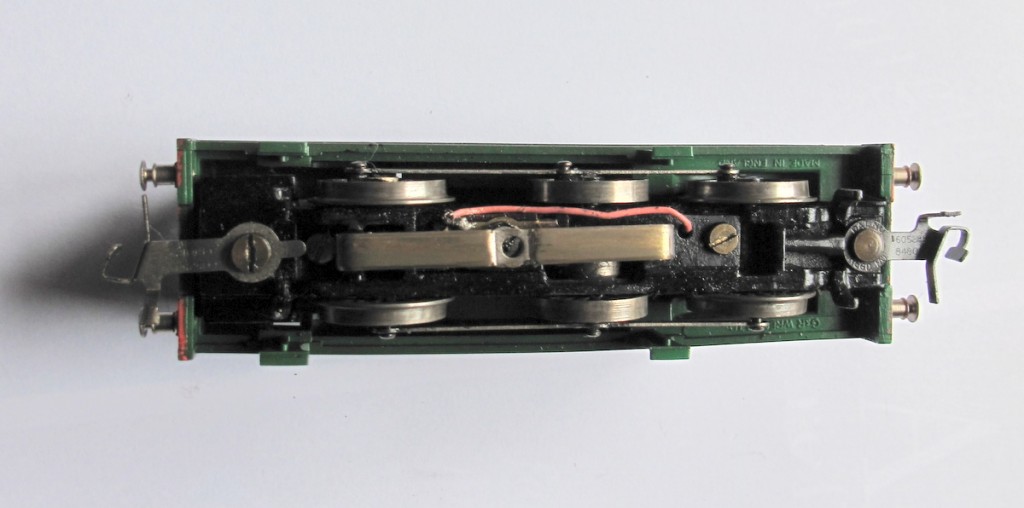 Followed by good old springy wire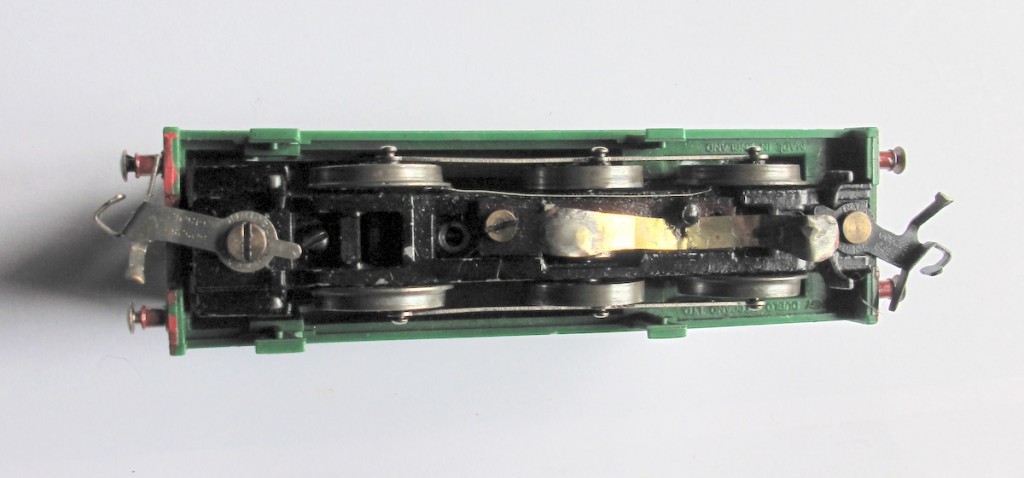 As long as the insulated wheels are earthed properly, usually by leaving the 2 rail pick ups in place but connecting then to earth all the conversions run well. The original HD pick ups and the Marklin skid will have a much longer life than any of the bent wire types as the copper they are made of will wear out with running.
Note that all conversions of plastic bodied locos, the Graham Farish one is diecast, result in the three rail pick-up slightly raising the driving wheels leading to inferior traction. If it is possible add weight to improve pulling power but in general a plastic bodied converted engine will not pull more than 2 HD coaches unless you are very lucky. However many of these tank engines run on branch lines and 2 coaches were a normal load.
I have more pictures but they all revolve around the same type of pick-ups.
All of my Wrenn conversions use normal HD pick-ups as they originated from HD and therefore genuine pick-ups will fit easily.
Please add a comment if you want more information but please note that all of my conversions have been bought in, I have not done any conversions myself.