This page focuses on HD locos which have been rebodied, repainted or converted from 2 rail to 3 rail.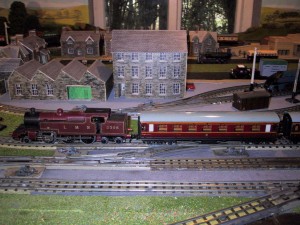 So we start with a 2-6-4T chassis with a brass body on it as a Fowler tank locomotive. A simple body but it looks OK and runs well. This was the first such conversion and it opened my eyes to what could be achieved on the layout if you didn't focus completely on just HD locos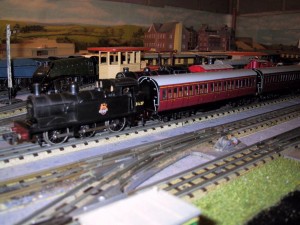 Next came the Southern o-6-0T model of an SECR E1 class in BR black. This model was only made in 2 rail and this one has been converted to 3 rail. It is the only HD steam engine with a plastic body(not counting the starter set) and suffers for being rather light weight and unable to pull more than a couple of carriages
Then a repaint of a 2-6-4T in Brunswick Green as seen in preservation but never when in BR service. A really excellent repaint in full gloss.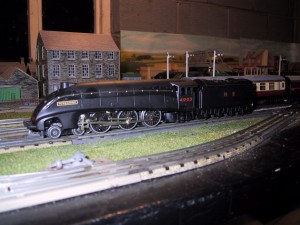 A Silver King repainted into war time black as Peregrine with NE on the tender. This is in the fashion of the Wrenn version but should have no number on the smoke box door and Peregrine was built with a double chimney but it looks OK from a distance.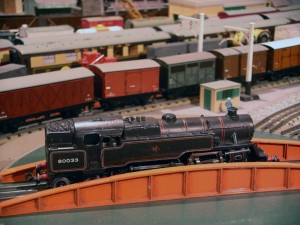 A genuine HD loco but a 2 rail body on a three rail chassis. The prototype worked on the Victoria to Tunbridge Wells service and I must have ridden behind it as far as East Croydon – so that was an incentive to run this particular loco.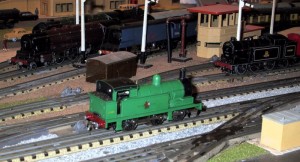 Another version of the HD 0-6-0T famous for banking trains up from Folkestone harbour to the town station. A very steep climb with sometimes 3 up the front and one banking. Never of course ever seen in this colour which is a figment of someone's imagination.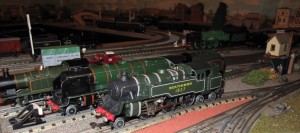 I just love the 2-6-4T engine so when this one came up it had to be added to the layout. A livery as strange as the one above but it looks fine except for the lining over the back of the boiler which would never have been contemplated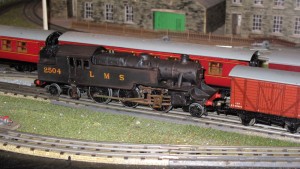 A Kit body with HD chassis of a Stanier 3 cylinder tank engine very similar to the 2 cylinder version which developed into the BR Standard 4MT. Used on the Fenchurch Street to Southend line for passenger service.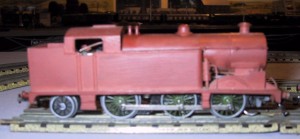 An out of focus picture of an 0-6-2T with a highly modified body the aim of which is to show daylight under the boiler as per the original. The HD body fills in the bit under the body to hide the motor. To achieve this effect the chassis is a pre-war horseshoe magnet type. Its in red primer and un- numbered. I must get round to painting it black sometime and afix some transfers and I think it might look OK. Bit of  clugger as the chassis and motor are very old.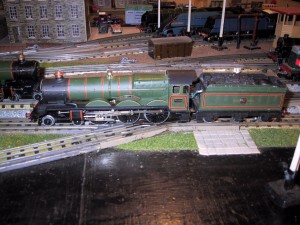 The last one is Atherly Castle a re-named and re-numbered Bristol Castle. The upmarket 3 rail layouts have 2 Castle Class locos one is Bristol castle and the other is Ludlow Castle. If you have hundreds of pounds then this is what you have if you are a meany then you have Altherney Castle – it looks the same just a different motor.
There was an article in the latest edition of the HRCA Collectors magazine on how to convert a HD 8F into a Black5, it was long and detailed and required a great deal of work and skill. The finished article though was very nice ideed.
Thanks to ebay here is a similar conversion but using a Graham Farish Black 5 body. It has 

a 3 rail Castle chassis with 8F valve gear and an 8F tender with the three rail pick ups. I actually think that it looks slightly better than the conversion using an 8F body as the Farish one has a higher running board.
It runs as well as a inch and a half Castle would which is not amazing power but adequate for 3 or 4 coaches or 10 or so trucks. Better than an 8F which has poor pulling power. A very nice addition to the loco fleet.