The last post mentioned a Triang Jinty with a HD R1 chassis converted to 3rail which sold at auction on ebay for what I thought was a staggering £107 plus postage.
Well the same seller has just sold a similar engine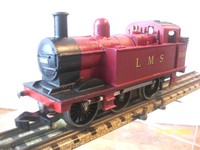 on ebay which went for £37.75. The vagaries of Ebay!
I am still happy with my Hornby B12 which is running well.