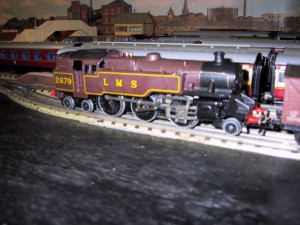 The interest in Hornby Dublo and the building of the layout started in 1997/8 and by 2003 most of the HD that I was prepared to afford had been obtained. I then started looking around for 3 rail conversions and the first on the list were Wrenn. Wrenn were owned by Triang when they bought Meccano and Hornby Dublo in 1964. The Hornby Dublo tools were sold to Tri-ang subsidiary, G&R Wrenn, and formed the basis of the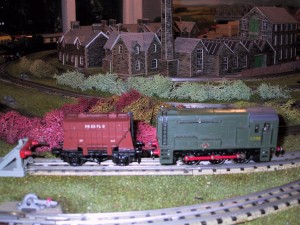 Wrenn Railways model range which started to appear in the late 1960s. My first foray into Wrenn was with a Wrenn bodied 2-6-4T in LMS Crimson Lake livery numbered as 2679. This was seemingly normal Wrenn marketing policy whereby they would put fictitious liveries on locos presumably to make them more appealing to their target children buyers rather than the modeling fraternity.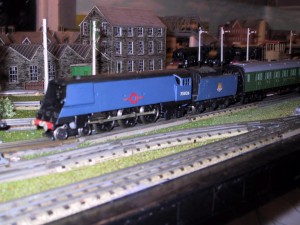 It was the same with the Class 8 diesel shunter. Genuine 3 rail versions of this loco go for fairly big money but this Wrenn bodied one was a bit of a snip and it does have a genuine 3 rail HD chassis and is in excellent condition.
Then came the big purchase, my most expensive buy ever. This was a Wrenn Merchant Navy Pacific, Lamport and Holt line in original "air smoothed" condition and painted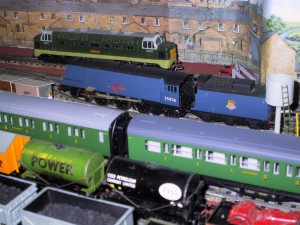 in BR Express Blue. This was not a fictitious livery as this engine did actually carry this livery before the decision was made to go to Brunswick Green for all express locomotives.
This is still one of my most attractive and liked locos. It is a genuine 3 rail conversion with non insulated wheels and is an excellent runner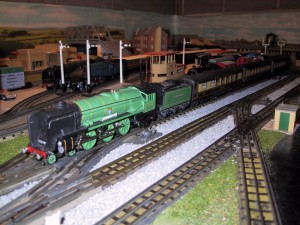 When it comes to fictitious liveries then this version of Lyme Regis probably takes the biscuit. A rebuilt Bulleid pacific (rebuilt in January 1961) but in Southern livery and numbered as 21C109 as if it still had its air smoothed casing although the green is unlike any southern green ever worn by a prototype engine. Easy to find and amongst the cheapest Wrenn locos available so it must have sold pretty well when it was first introduced.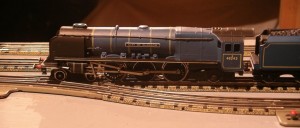 HD revamped their tools for the Dutchess of Montrose and produced a new version of this engine introduced as City of London in 2 rail and City of Liverpool in 3 rail. This was a much better model and the Liverpool 3 rail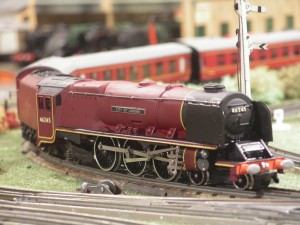 version is very rare and very expensive. Wrenn used the same tools to produce a City of London and in there normal way some in different liveries. Here we have City of Glasgow in BR Express Blue, although a completely different shade to the Bulleid pacific above. Then we have the Wrenn version of City of London. These are preferable in my opinion as they have metal pony and bogie wheels making for much better running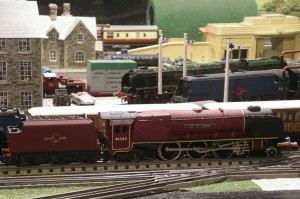 Collecting mint and boxed Wrenn locos must be one of the most expensive parts of OO collecting but unboxed and converted, therefore not original, it is cheaper than going for the rare HD versions of these locos.
So by now the layout was awash with Express Passenger engines and there was a move to those locos that were the backbone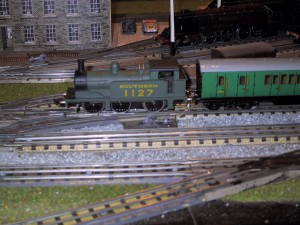 of the steam railways which were small tanks and tender engines used for both passenger and freight services. The only Wrenn contribution to this change was one of their versions of the HD 0-6-0T liveried as Southern 1127. This is also a fictitious livery as far as I know all of these R1 tanks were painted black even in Southern days.