Looking at my posts I have written nothing since May last year, That seems unbeleivable but then I have had no new trains since then. The slogan for this site used to be "more track, more trains" but I have run out of track so there have been no more trains. On my layout all engines and rolling stock has to be on the rails and ready to run at any time, nothing in boxes or under the counter, so when you run out of rails you are stymied unless you have a breakdown.
In the meantime I have serviced and repaired a couple of 2-6-4T's to keep them running OK and I also bought another 0-6-0T to be 3 railed and put under another body but this is still in the "to do" box.
However my Hornby Black 5 3 rail conversion has once again succumbed to tender drive problems and is unable to pull anything but itself which could probably be solved by some new tyres but there was an opportunity to replace it. Luckily there was a Trix Standard 5 available with "scale" wheels, allowing it to run on HD track. on Ebay and a successful bid was made. It arrived today. It is in very good plus condition, runs well, pulls a good load and is a very good addition to the fleet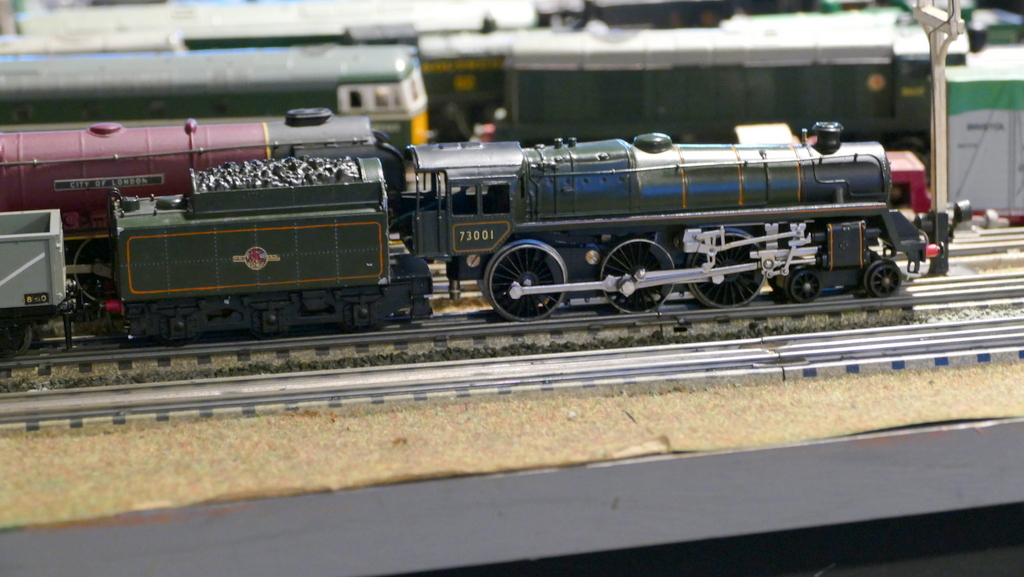 Many years ago I had one of these but it had a handbuilt chassis with a Triang Motor and a very knacked motion. It finally ended its running when the drive gear wore out and the motor just spun. I always fancied another and now I have one.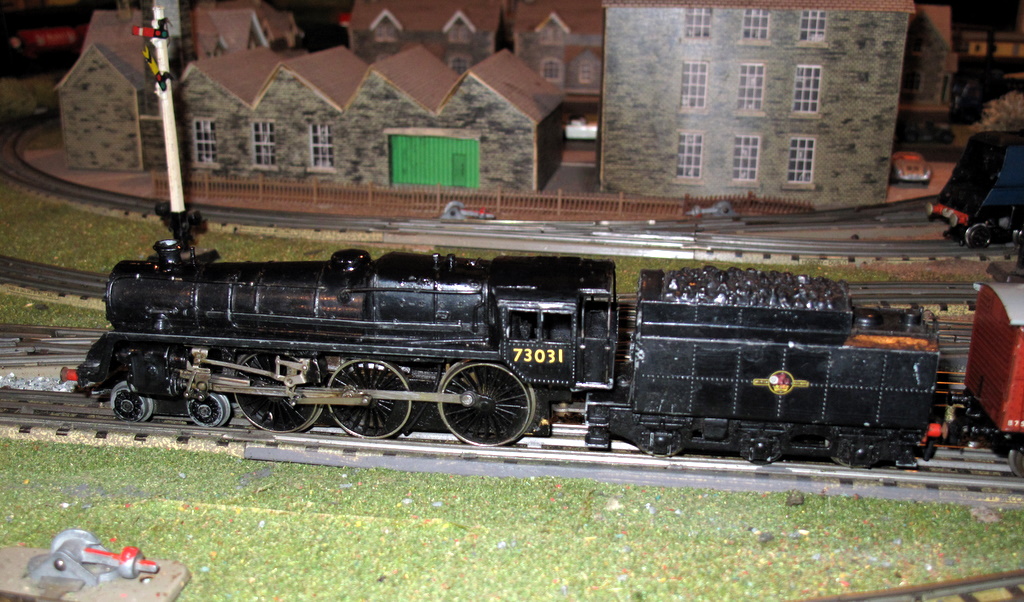 This continues my Southern theme on the layout as the Standard 5's replaced the Southern King Arthur class locomotives with some of them even being renamed as King Arthur's. The Trix one has no name and as it is the original number 73001 is unlikely to have run on Southern metals but close…..
When buying Trix engines for HD track you have to make sure that they have "scale wheels" becaise the normal cheese cutter wheels will not run through the points of HD track.
I have now attached my Trix Southern coaches to this engine and it looks great – I will take some more pictures.