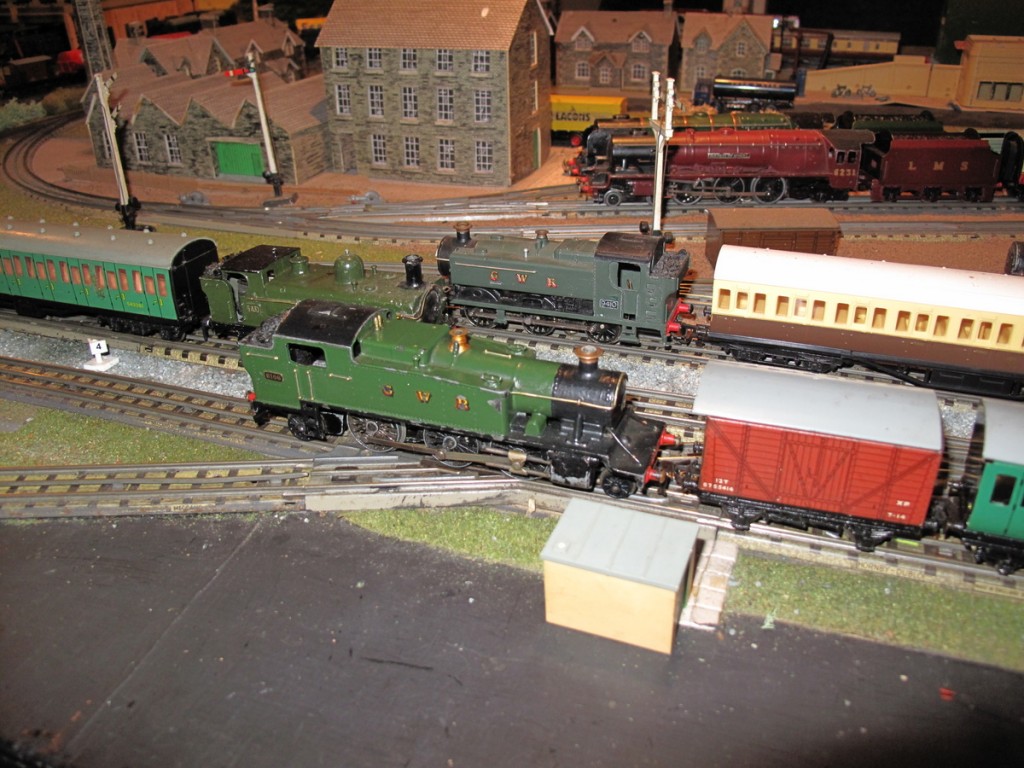 Just thought that I would post a few pictures and update the latest activity.
The first picture is of a GWR scene features in the foreground a Graham Farish large Prairie. I have had this for a while but its always been an indifferent runner if it ran at all. I finally traced the problem to the commutator segments being filled with dirt and crud. A fine toothpick to clean out the grooves worked a treat and now its a reliable runner but not all that fast. The middle loco is a Gaiety body on a HD 0-6-0T chassis which has been 3 railed. The rear loco is another Graham Farish but this time an 0-6-0T.
Probably my favourite HD loco is the 2-6-4T and I have many variants on this theme. On ebay I spotted a repainted one renumbered as 80098 which is one that is currently awaiting overhaul at the Midland Railway after a long service on the railway. I won it with a low bid and when it arrived was mostly disappointed as the chassis was really rough with the wheels not being in gauge, the motion was broken on one side and it was a pretty grim runner. The repaint though was not at all bad despite the number on one side being a bit wonky. I worked on it and got it to run OK but was not really happy so I started looking for a chassis for it. Well that got me bidding on the low side for complete engines. Most I lost as I wasn't prepared to go very high. But I did win an 80054 which was in good condition and ran well so I just added it to the collection. Then came another repaint this time in blue (Caledonian Blue?) and I won that at an even lower price. The blurb stated that it needed a repaint but that it ran well. In fact the paint job is not bad at all but it had no handrails and no numbers. The handrails have been added from an old body and I think that it looks OK and has been added to the fleet. 80098 remains as it was still running but without its replacement chassis. I had better stop bidding for complete locos unless the body is a basket case.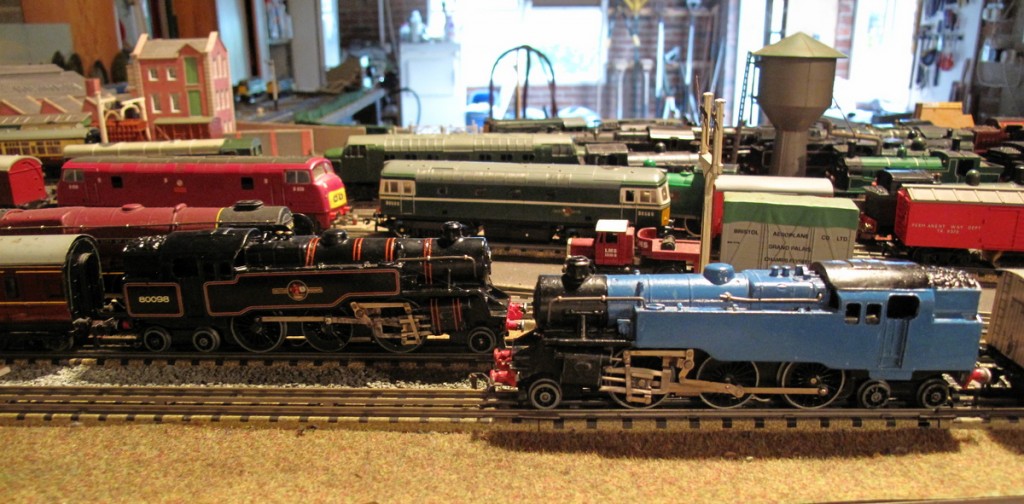 The pictures shows 80098 with its broken running gear alongside the blue version
There is a similar story with a Bo-Bo. Sometime ago I won a Playcraft Class 29 diesel which had been fitted with a Bo-Bo chassis. Now Playcraft is HO but in fact this fitted in well with the other diesels and was added to the fleet. It had been repainted with full yellow ends and with the Bo-Bo chassis runs very well and pulls 4  or 5 coaches with ease. When I won this it came with a "free" original Class 29 in two rail in original condition. So look for a chassis and fit it under this one as 3 railing it looked difficult. Now ebay people like to break up locos and sell body and chassis separately but with the aim of getting more for it than fo the complete engine. So lots of low bids on complete engines with most being lost but one came up. Low price nice repaint of a Wrenn body but the chassis is very noisy. I have got it running as best as I can but do I put the chassis under the Class 29? Currently its added to the Bo-Bo fleet.