Over the last 5 days two of my converted locos ground to a halt. Both were Graham Farish conversions. One was the large Praire tank, which I bought only recently and the other was a 0-6-0T with an original motor.
I am not sure that the Praire is the original chassis as it has an upright motor very similar to a HD N2 or 2-6-4T. Any way this had been running sluggishly for sometime and was reluctant to start without a push but last week it gave up the fight completely. I stripped it down and found that one of the springs holding in the brush was twice as long as the other. This is mentioned in one of Ron Dodds videos as a potential problem so I duly cut it in half and put back the brush, In so doing the soldered wire came off so I had to resolder that – nothing to you chaps but big for me as my soldering technique leaves something to be desired. But the wire is still on and the engine is running around the track. Not fast but it is running.
The other one had the motor sprocket spinning on the drive wheel gear. Again a dismantle and I could find no better way of holding down the motor sprocket than was already in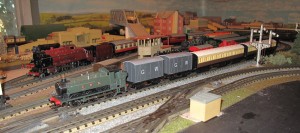 place. So in this case I moved to the last resort of the bodger, superglue, and stuck the motor to the chassis. With a lot of time holding in place. as it is still so cold in the workshop that any glue dries slowly, I checked that the gears were meshed and tried a run. Works well. So back on went the body and the engine is back pulling its Grafar Western Region coaches strongly around the small inside track.
Now I'm on a roll is there something else in the box that I can turn my mechanical skills to?