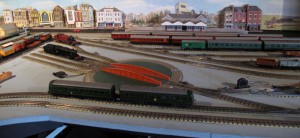 The main activity is still testing the extension track to make sure everything runs smoothly. Plus I have been standing contemplating the layout and have decided to move many of the trains from their current running track to new ones. Then you have to test if they run OK. The Wrenn
Merchant Navy with Pullman has moved to the down line and the Deltic with Maroon MK1 has moved to the up line and the small oval now has urban trains rather than express.  Lots of other movements as well as some new acquisitions. I now have two Graham Farish WR coaches to match the Farish Tank engine – a nice little set up.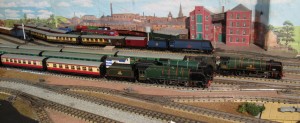 This is not playing with trains but serious testing.
I have also been adding some buildings to the extension.
Lots to do.
Loving it.