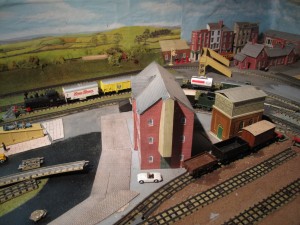 The new electric points arrived that I had bought from Peter Davies and the key one was fitted and wired up. Trains were sent around the track and then reversed into the sidings to check for derailments. Each engine and its train were being checked out and then out of the blue the engine just stopped. The auxilliary controller showed a dead short every time one tried to start the engine.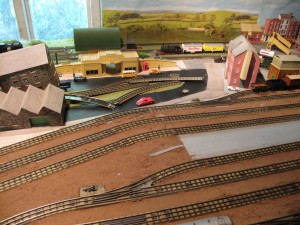 The multimeter had died over Christmas so the short had to be found by trial and error. The first thing to check was obviously the extension, suely it must be there. The new extension track was disconnected from the existing track. The extension connection from the main controller was removed. The auxilliary controller was wired directly to the extension now running seperate from the existing track. All was fine.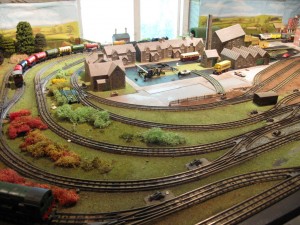 So track that had been laid between 2000 and 2004 and never given a problem all of a sudden had a dead short. Now this track is screwed down and ballasted and in some places almost impossible to get at. All the trains in that area had to be removed and stored. A mulitimeter was borrowed and testing began on each track section. Everything within easy reach was OK. Sods Law was fully operational. More trains were removed cushions were laid on  the track so that I could kneel on them without damage to the track and the far flung eaches of the layout were checked. A short length of track the furthest away from the front was the problem. How, why who knows but there it was.
Unscrew the track replace the offending peice and all was fine but I took the opportunity to remove a point to a very small siding to reduce decoupling in this area and to slightly realign the track.
This took a lot of time as this slight realignment seemed to throw everything off and the re were derailments and decouplings. In the end I renewed all of the track in that area and started running all the trains again.
For the moment work on checking the electric point installation has stopped until this section is running reliably again