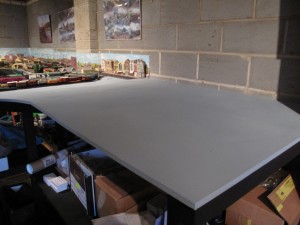 I have now painted the extension so that it is ready to start the layout. After that it was off to a visit to the local train fair and the purchase of some rails and points. I then had a follow up visit to one of the dealers houses to buy the rest of the track needed plus a chance to have a look at his train room in the loft.
Amazing layout and an amazing amount of stock. He has been collecting for many years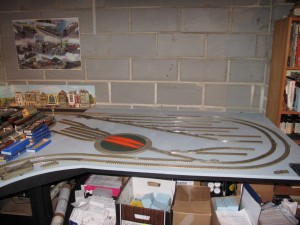 both dublo and Triang and he runs 3 rail and 2 rail for his Triang and 2 rail HD. Fantastic collection with rarities in profusion. How about 3 St Paddys, 4 southern 0-6-0T's and much more. Jealousy knows no bounds when you see a collection like that. A prewar Mainline station and two of the modern plastic mainline stations one in use as a Terminal and one in use as a through station. Breathtaking.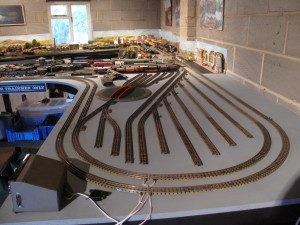 Back to the mundane of my layout.
With the new rails I was able to loose lay what I think will be the final shape of the track, The first train to run soon showed that I had put isolating points between the mainline and the sidings – Wrong – they have to be non-isolating otherwise the engine will not run into them. I found that out on the last extension but forgot all about it. Still re-laying track is always fun.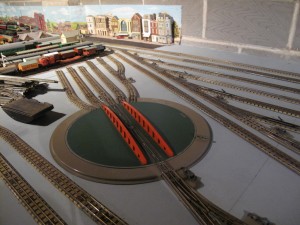 I have added an additional power point to each set of tracks and have also added a remote controller for each track so that I can work within the new extension and not have to keep going back to the main controller. This has resulted in smooth steady speed running throughout the layout. The total layout now has 4 electrical inputs to each of the tracks reducing the effects of voltage drop. The current wiring is of course very temporary as it will be under the base board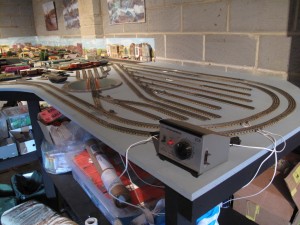 when we have checked out the layout for good running.
Now to check for ease of running, de-railments and uncouplings. This will take some time