Back in the day only a few years ago 3 rail conversions were frequently on sale on Ebay. and they were usually cheap, around £40-50 at the most. A chap called dublobear was prolific and his conversions were excellent runners and very varied but unfortunately he died about 3 years ago. There were others and my running collection has a lot of these conversions bringing added interest to the rather restricted HD range, But now things are changing. Are there more people running 3 rail and looking for them or are there fewer people doing the converting. Whatever. The result is that 3 rail conversions on Ebay are now attracting what is to me silly prices.
I suppose my first 3 examples are not really conversions but just a Triang body on a HD 3 rail chassis but at a price
Triang Hornby Dublo 3 rail Coronation Streamlined (Blue) £122
Triang Hornby Dublo 3 rail Coronation Streamined (Maroon) £147
Triang Hornby Dublo 3 rail Coronation Streamlined (red) £155
All three are Triang bodies on a Duchess of Montrose chassis which if compared with a true HD conversion – Hornby Dublo Barnstaple 3 rail conversion £87 seem to me to be very expensive but they do have a genuine HD chassis so should run OK. I missed that Barnstaple  listing as I think that I might have bid even though I do have a Dorchester – that's a decent price for a very tidy loco – you can never have too many Bulleid pacifics.
To me the most surprising conversion is that to a HD R1 0-6-0 loco which was only made in 2 rail but can easily be converted to 3 rail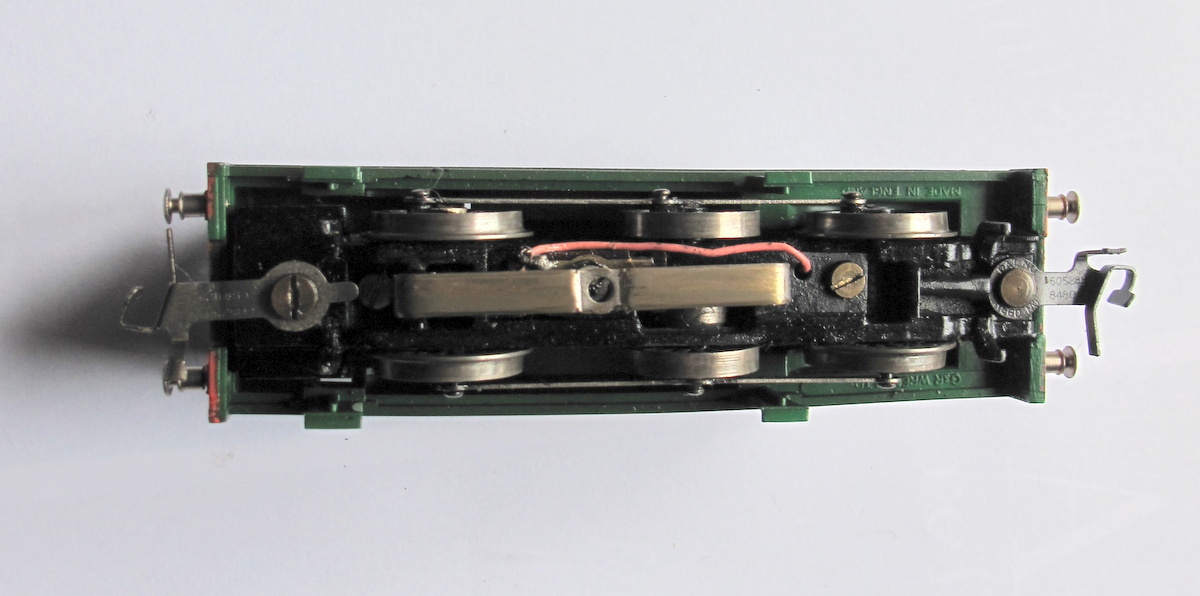 using a Marklin sled or even the ubiquitous springy bits of copper. (these simple conversions are pictured in the conversions section of the website), Three 2 rail locos are currently available for under £30 and another couple under £35. Amazing then that 17 people bid and one paid £85.77 for a conversion to 3 rail- truly amazing. Even I can do these conversions and I have more thumbs than fingers.
I have 8 of these chassis, 4 under HD plastic bodies, 2 under Gaiety 0-6-0T saddle tanks and 2 under Graham Farish tanks. I don't think that anyone of them cost more than £35.
There is money to be made out there doing these conversions