I actually bought this some time ago. It is a Triang Industrial engine from one of their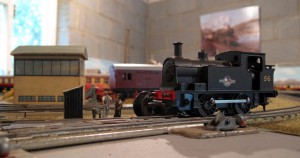 starter sets. It reminds me of the dock shunters at Southampton docks. Basically it is a terrible runner as with its Triand wheels short wheel base and Marklin skate it wont negotiate points or X crossings. It is alright on a straight piece of track. I have tried bunging in some additional weights in the cab which helps but I need to do a proper job of adding weight to it so that it doesn't bounce off the track when negotiating points.
Probably this is best as a non runner pretending to be shunting the yard.
Apart from that not much to report as Summer is here and playing with the trains is much reduced as there are so many other jobs to do. Still they are all there waiting if I get a moment to give them a run