Welcome to my Hornby Dublo 3 rail website that is based on what's happening on my Hornby Dublo 3 rail running layout.
This site has been optimised for mobile phones and on a computer the pictures look small. To remedy this right click on the image, then click "open in a new tab" and you will have a full size version
April 2021
Below is a new video by Ronald Dodd on cleaning HD 3 rail track. Lots of interesting but simple ideas to make track cleaning effective and easy plus an up to date look at his amazing layout.
Some further news from Ray
I`m sending you a few pics of my latest projects, a Dublo 2 rail AL1 that i bought in a bit of early hours shopping on ebay, these are very easily converted. I also have an early Triang Hornby AL1 which  I bought a couple of years ago as an experiment to run under catenary which it did properly only after machining new steel wheels for the trailing bogie to HD standards which now fitted with a Marklin skate. I also have two Trix AL1s which one was a 2 rail model, again modified to run on 3 rail track & an original Trix 3 rail model modified with a Marklin skate as Trix collector shoes don`t like Dublo points. The last pic is another little project, fitting a Dapol BoB body kit on a Barnstaple chassis which needs the valve gear modifying.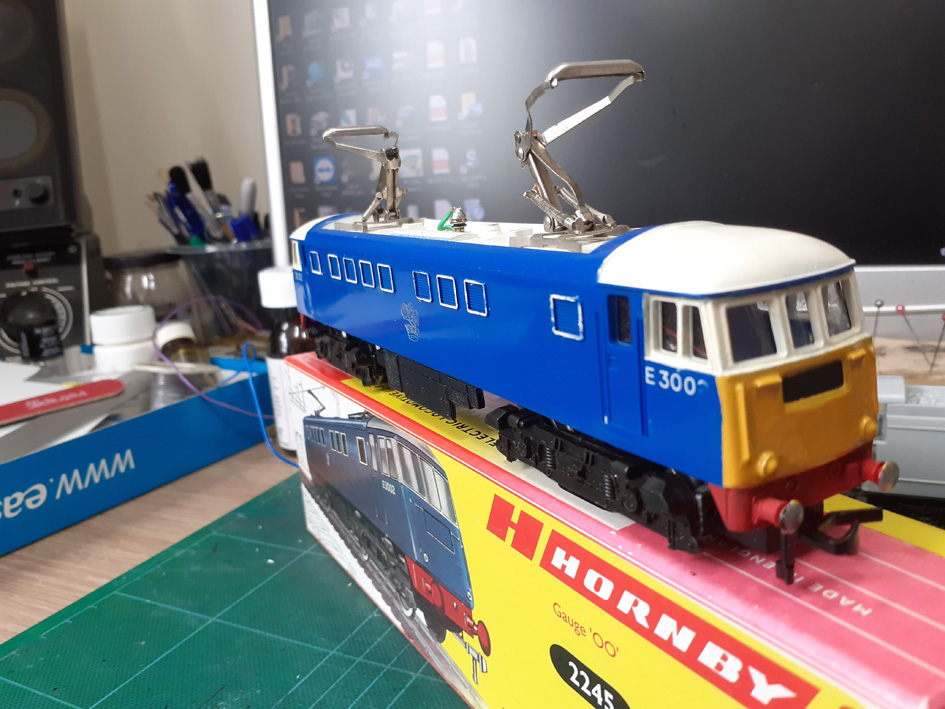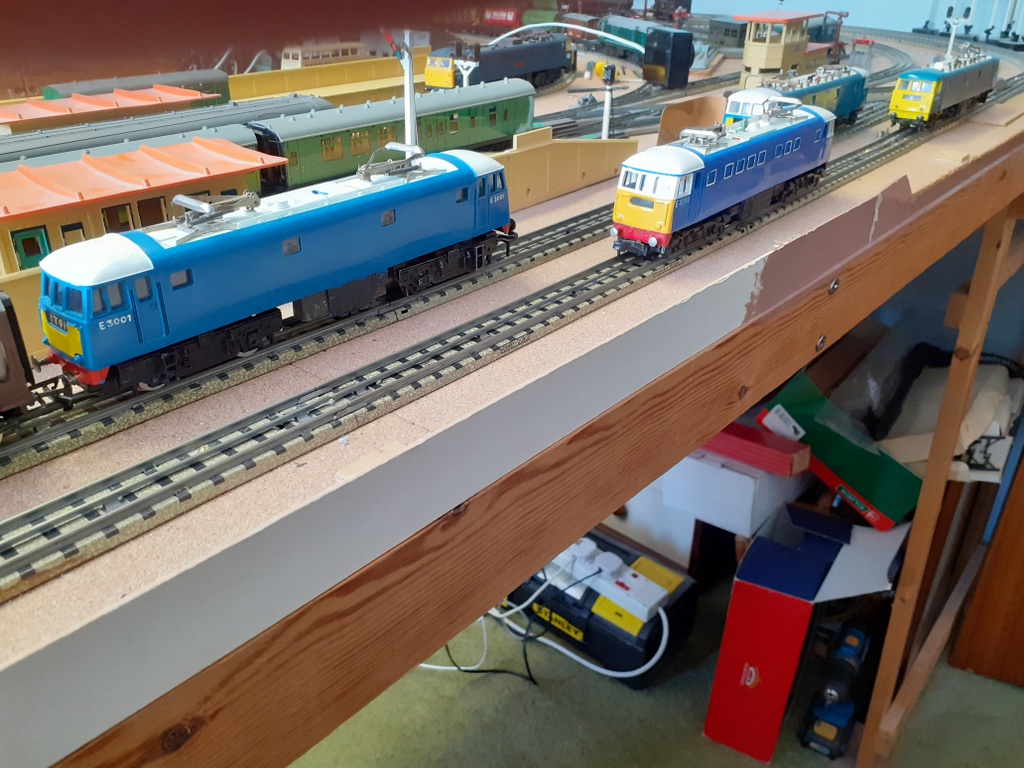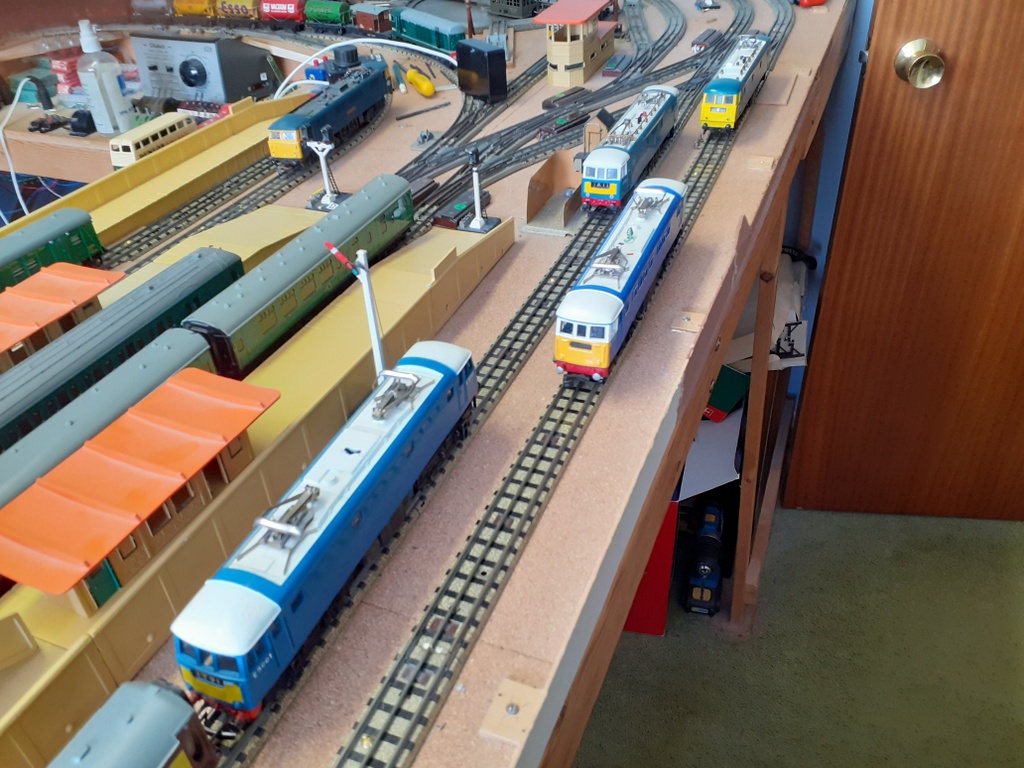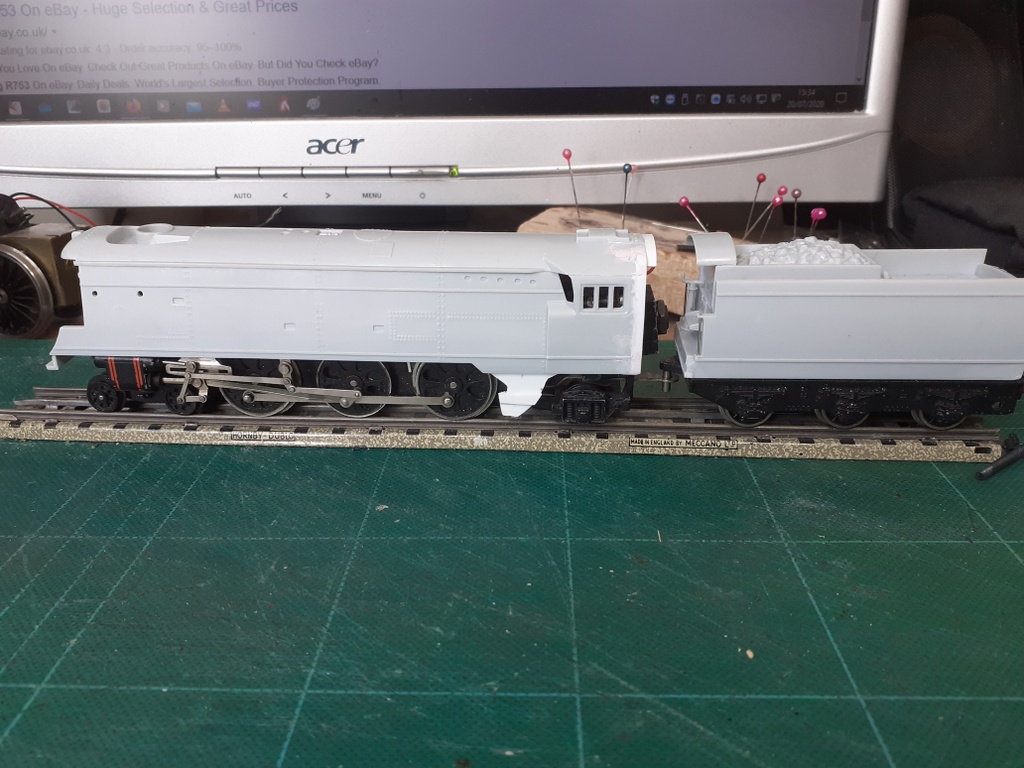 A line up of Ray's recent three rail conversions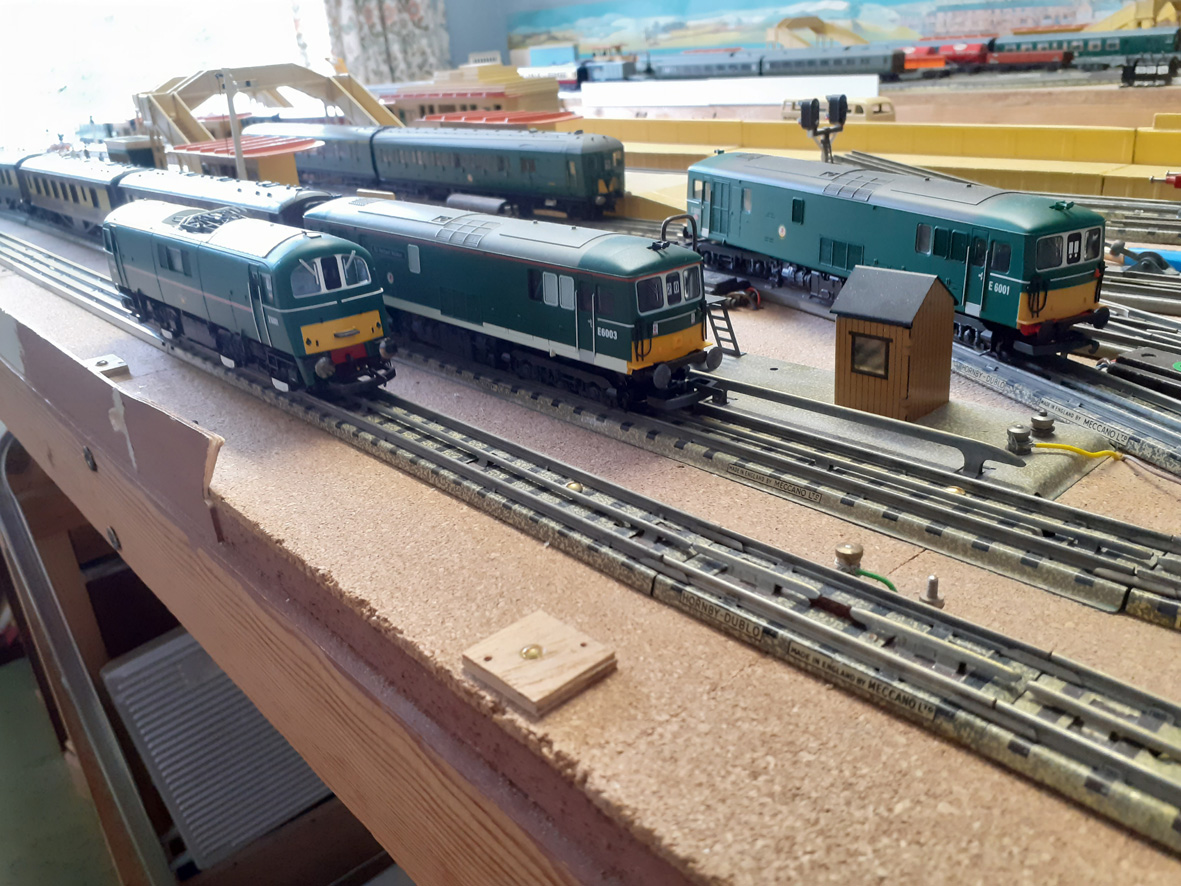 Part of my SR fleet, Hornby Class  71 & 73 & a Lima Class 73 which has been re-motored with a kit I purchased from the web. In the background a Hornby 2 BIL and a Bachmann 4CEP.
I posted in May that I had the camera and tripod and would try to produce some videos. I took a whole bunch of short videos and used Movie Maker to join them together, The results were underwhelming. The joins were too obvious, the train speed was too fast. the camera was too close and the camera wasn't optimised for the job in hand. I improved the editing but the other problems remained but I did publish another couple of videos from this original material.
I have watched some YouTube videos to optimise the camera settings, slowed the trains down (a bit) and moved the camera further away and added some camera panning to reduce the frenetic speed, The result is here, which as British Railways once said "We are getting there", they never did but I hope that I do.
This has enabled me to add a new section labelled "videos" where I will post my videos and any others sent to me.
Ray's latest conversion is a Hornby Class 73 in the latest post here
Ray is keeping the website well posted. Here is his latest;
Hi Tony,i`m just trying to work out how to describe some of the conversions from 2 to 3rail. Some are pretty straight forward,for instance, Dublo & Wrenn locos, Others are not so easy,it takes a bit of courage & faith to spend £100 plus on a loco & then proceed to take it to pieces. My background is model engineering & i have a lot of hand tools,taps & dies mainly in the smaller BA sizes but i have been known to stray into Metric.
I`ve attached some pics of the easier locos,a Dublo WC loco, The Hornby 2BIL needed a different approach as in the pics.The Heljan EM1 is fitted with a Marklin 7164 skate & the pantographs are Trix with a miniature slide switch inside the body to allow it to collect current from the track or pantographs,the switch is shown in the second pic.
The pic of the underside is the Hornby Cl.71,the arrangement of the p/ups but unfortunately.after trundling around the the layout for some time,the lighting PCB blew out but i can live with no lights,bit of a gimmick anyway.
The Duchess loco is not a track conversion but an example of what can be done to a Dublo or Wrenn city, Sir William A Stanier the Ivatt build with a Delta trailing truck & roller bearing loco, the correct tender is a Comet models etched kit on the Dublo tender chassis with Fox transfers. The video of the 9F on the turntable has been posted below.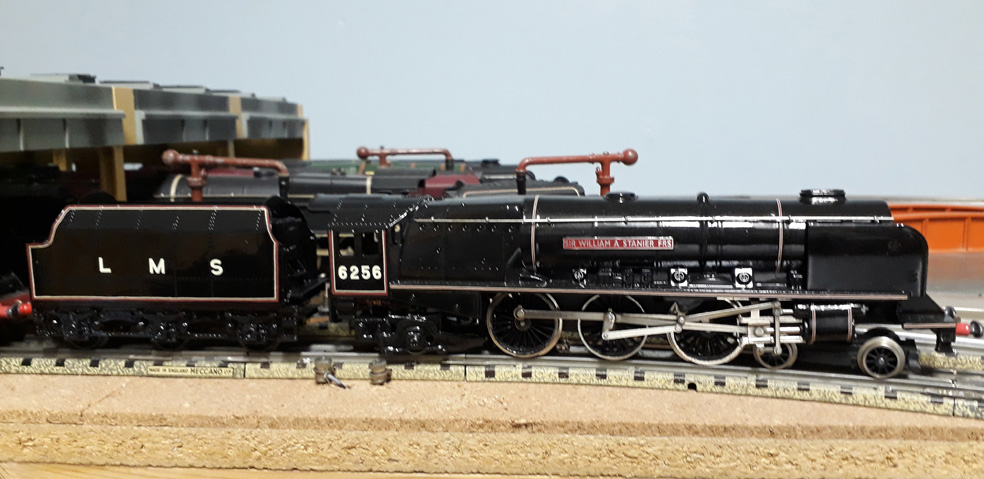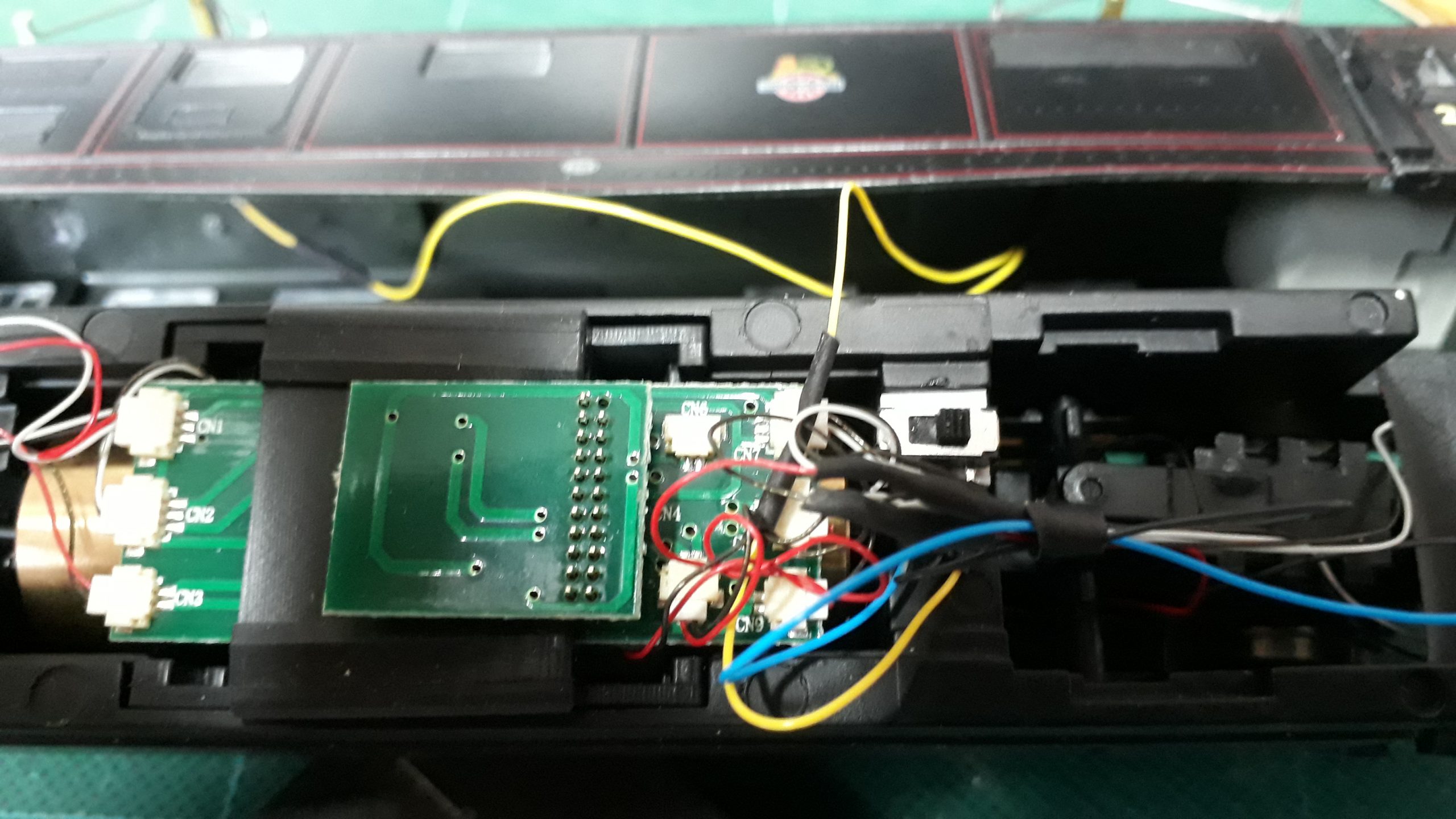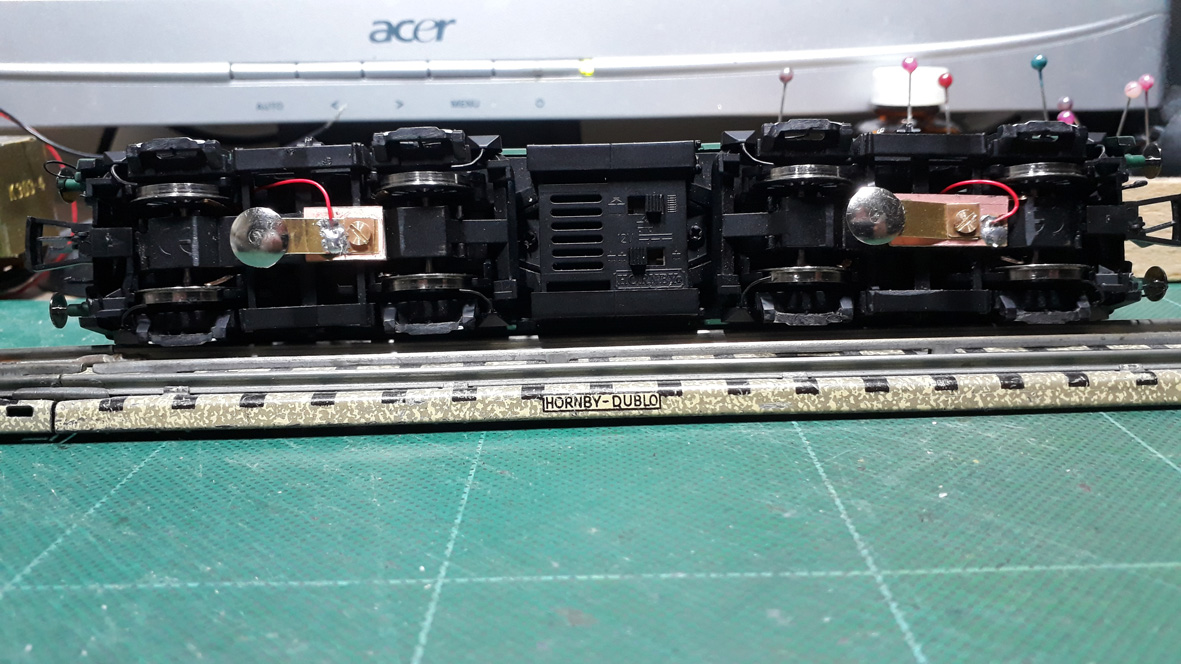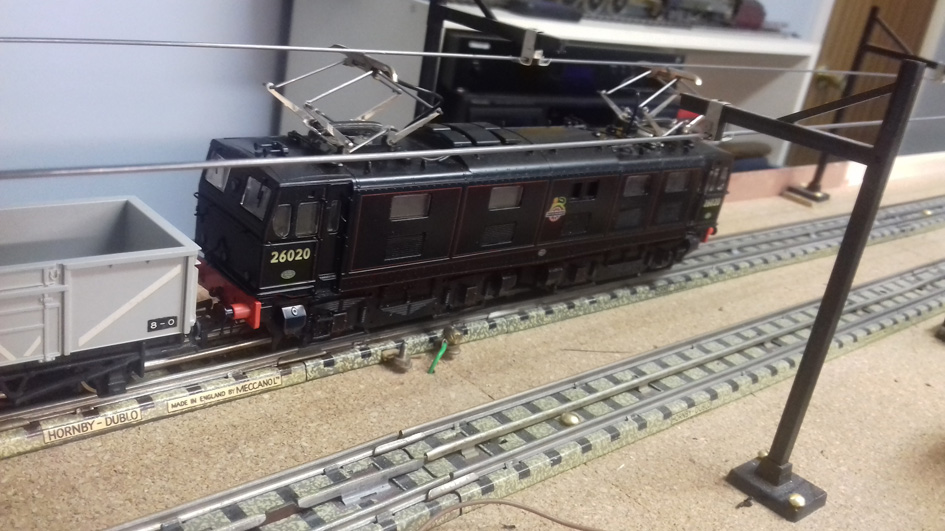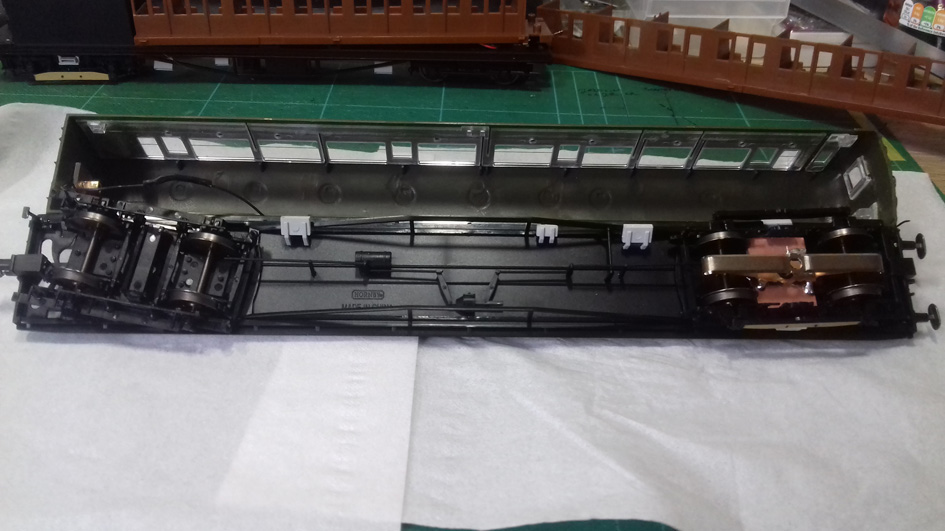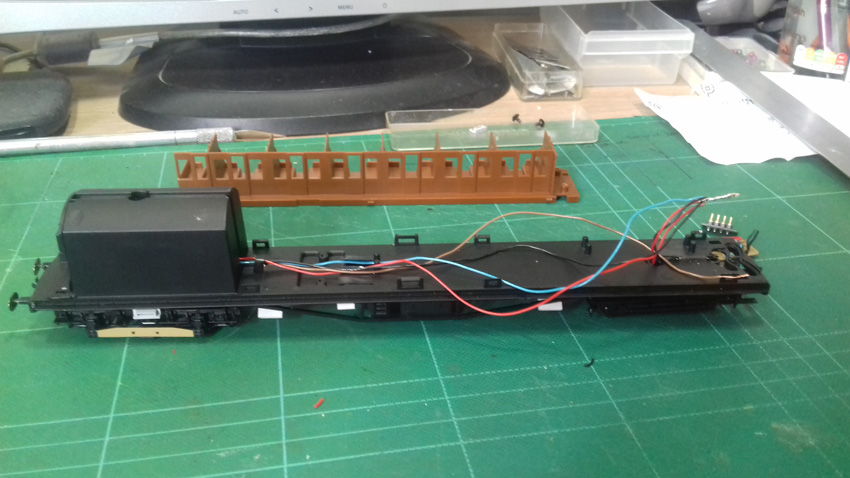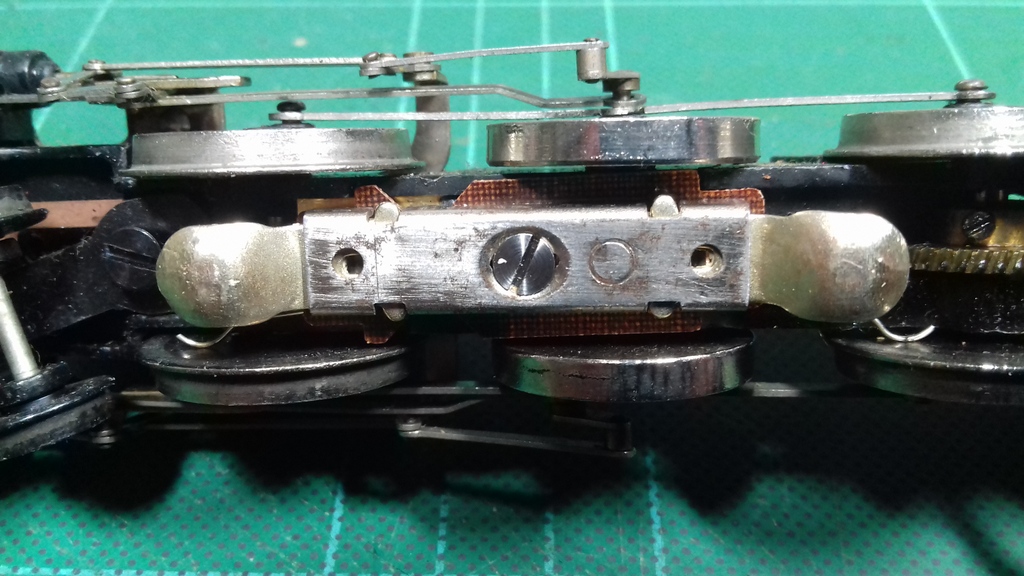 Another new video from Ray with the comment
"A rare beast on a Dublo 3 rail layout,a Hornby SR Class.71 converted to run on my layout.A challenging conversion,at first,i thought it couldn`t be done but with a bit thought ,this is the result.It`s hauling a set of Trix coaches in the video,they are slightly underscale which shows up in this video but they are extremely free running These 750v third rail locos hauled the Night Ferry from Victoria,then BR`s heaviest train at around 800 tons and the Golden Arrow,also from Victoria".
Ray had some information on this conversion on the forum which I have taken the liberty of repeating
Must be the lock down or the masochist in me!.I`ve just bought a Hornby Cl.71 with a view to 3 railing it. It has got room for a skate under the bogies but i want to remove a triangular piece on the keeper plate moulding.There is a countersunk screw which appears to hold the keeper plate on but I`m a bit loath just to undo it without knowing what`s underneath.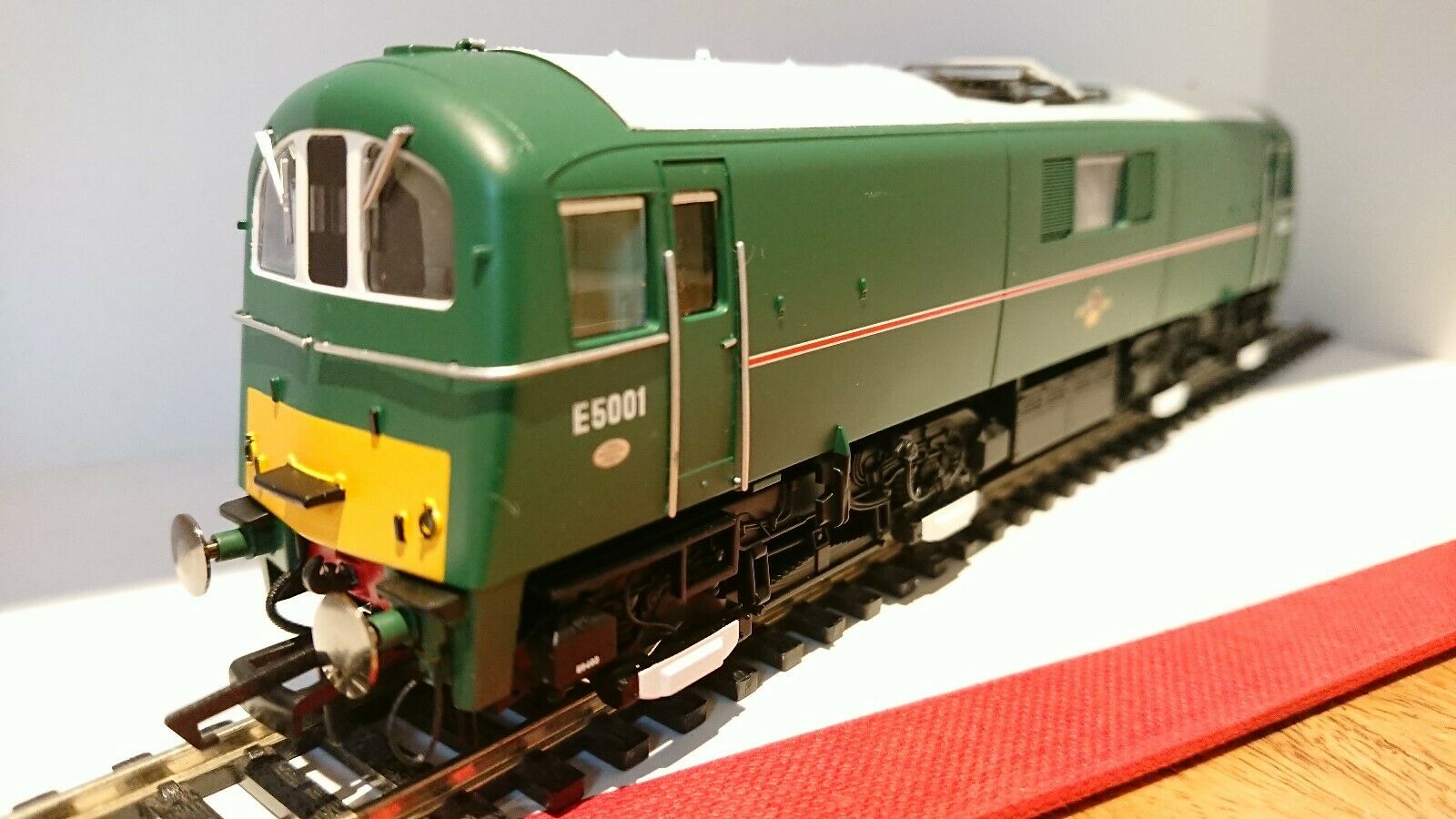 Further to the Hornby E5000 conversion,progress so far.One more bogie & p/UP to make then to sort out the wiring.I`d like to keep the lights working.
The Hornby Cl.71 SR electric 3rd rail loco.I wanted to convert one of these as there is a dearth of Dublo SR locos.These were used to haul the Night Ferry from Waterloo which was the heaviest paseenger train at 800 tons in the UK at the time,they also hauled the Golden Arrow as well.The 3 rail conversion was one of the most challenging i have had so far but it runs & is a powerful loco. The couplings are a bit of a problem but hopefully here is my answer at the moment to the NEM Dublo coupling, A Trix plastic Mk1 coach coupling with a piece of plasticard welded to the shank & shaped to fit the socket for a friction fit.It shouldn`t have been cranked but i welded the card to the wrong side of the coupling,Hopefully,the Mk2 version will be better.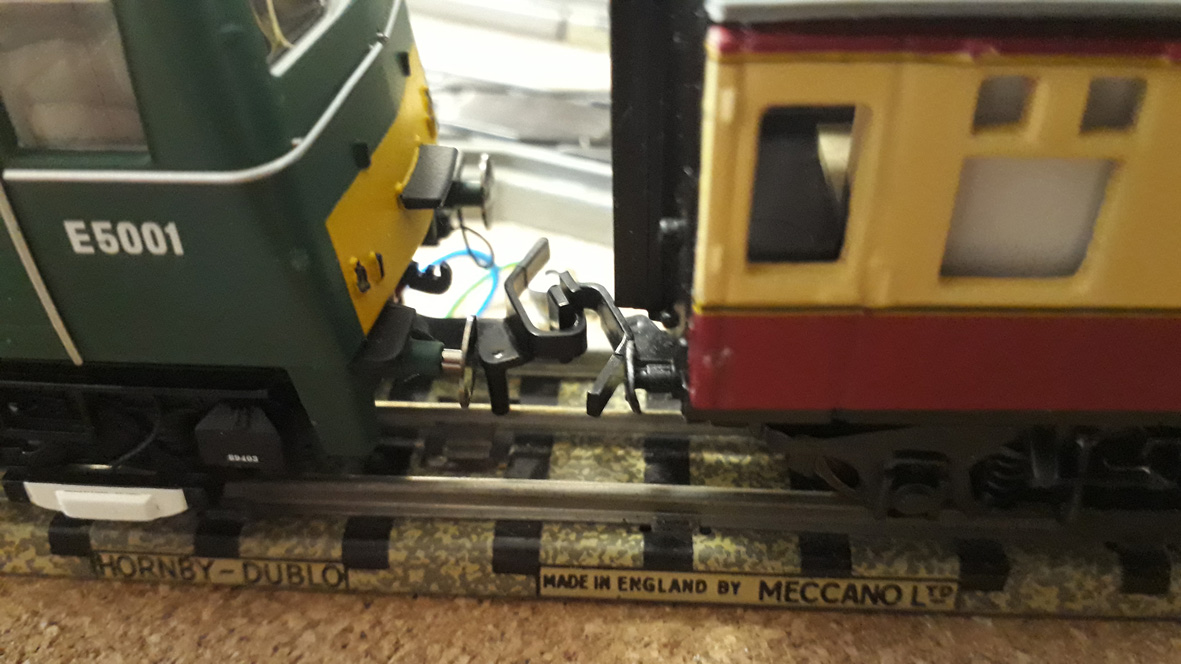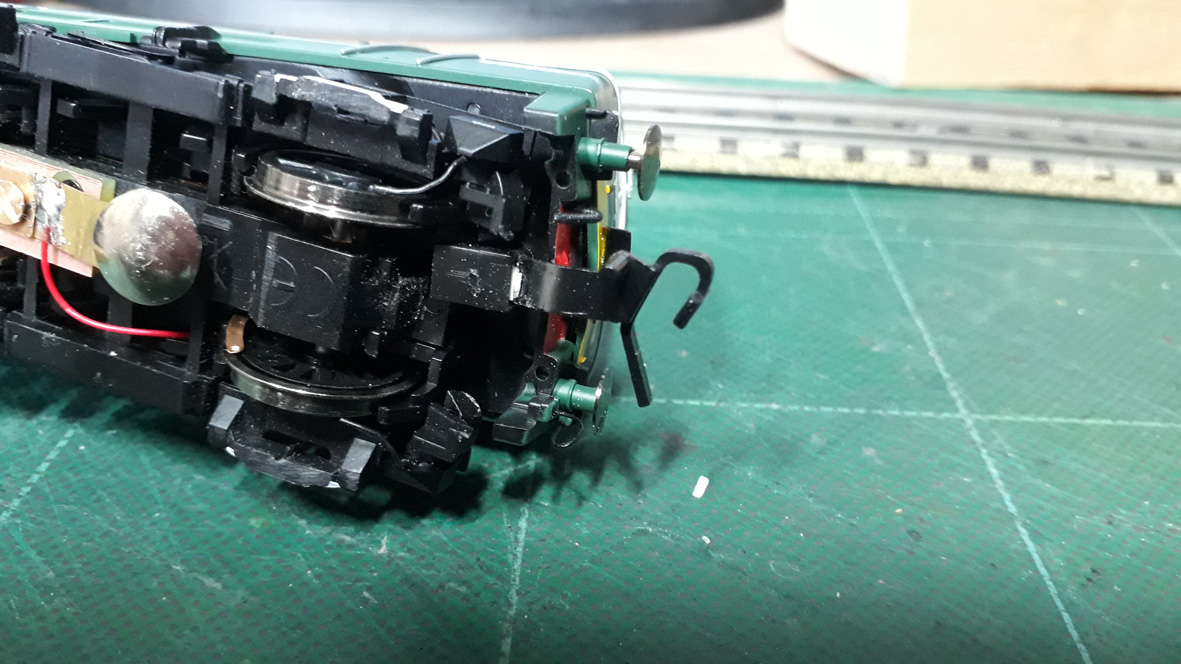 ________________________________________________________________________
Brian has a layout page and he has also been updating it:
The Montana RV-5 Lutecia green was ordered on line. I sprayed some in a glass ramekin and used a brush for the retouching. Not a brilliant paint job on my behalf but these are not collectable coaches, I run my trains, and at speed who will notice?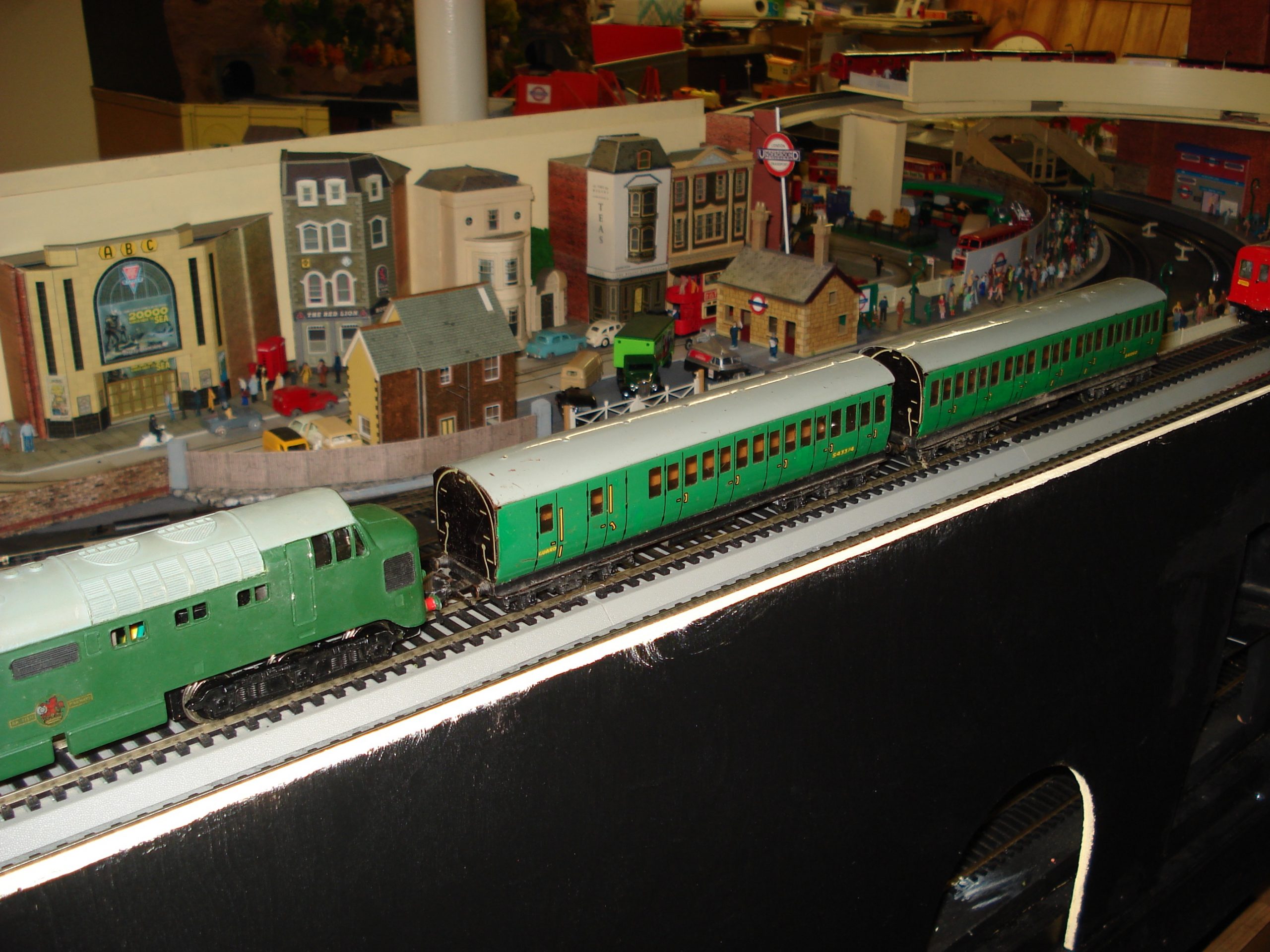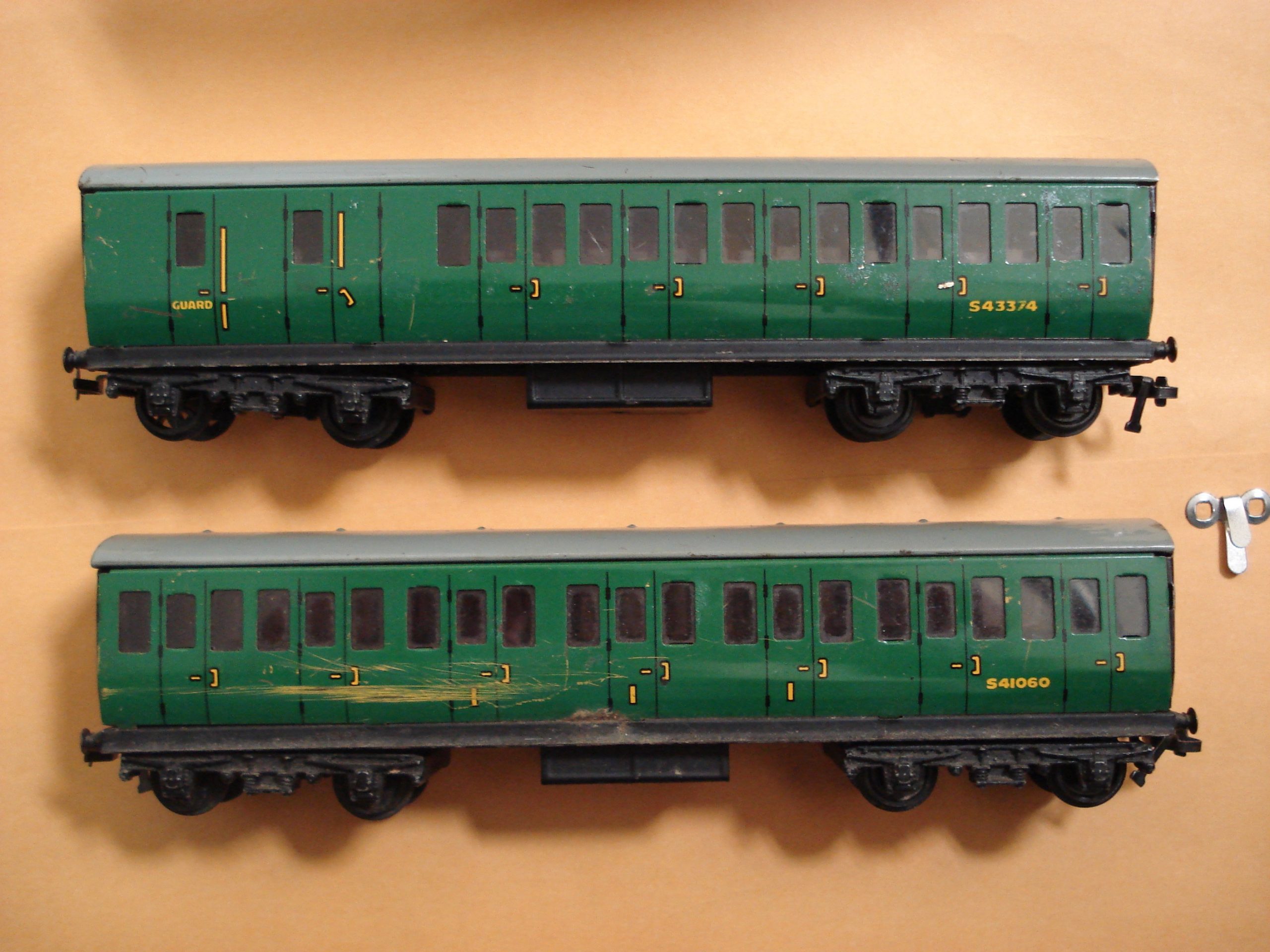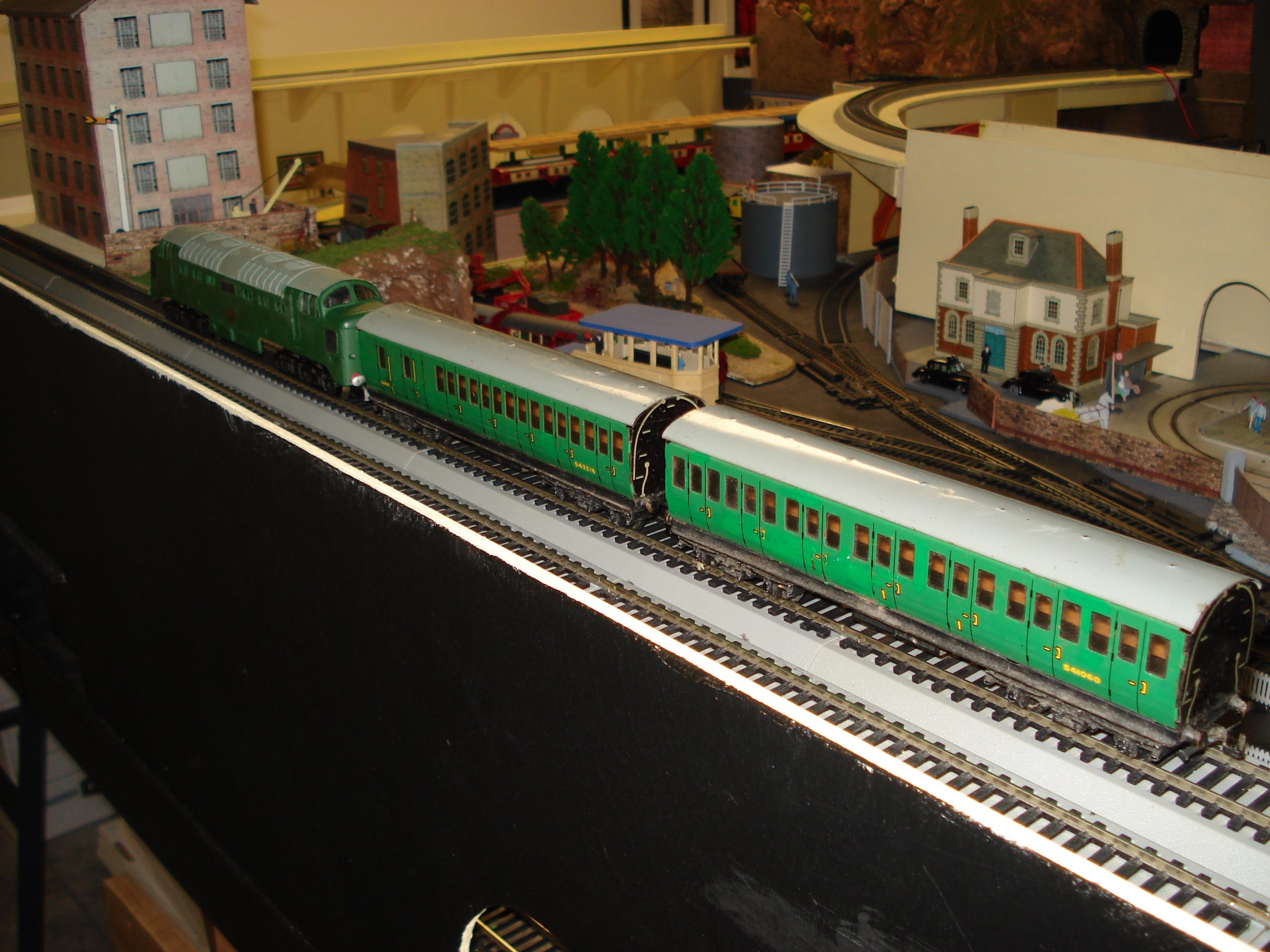 Hopefully the lock down will encourage people to use their new found time to play trains.
__________________________________________________________________________
Another of Rays  conversions of modern Hornby models. A 2BIL fitted with a Marklin 7164 skate on the front bogie of the driving trailer car wired through the motor coach using a home made plug & socket as in Dublo 8fs & Castles through the coach ends.
Another BR (SR) 4 CEP conversion this time by Bachmann using the same principle 
A new video from Ray is below and is also posted on his own layout page which I need to sort out as many of his photos have been lost during a WordPress update
__________________________________________________________________________
I have used the camera and the tripod and made a video thanks to some simple editing with Microsoft Movie Maker, which is surprisingly easy to use,  My first attempt so not something to put on the front page but I have put in in the latest post 
I have the time, I have the camera and a tripod so I am going to have a go at a video. But it may taken some time to sort
So 2 more new posts on Neverwas to keep you interested in these unusual times  – here and here
A new post here – an interesting Neverwas
With the UK in shutdown mode the best thing to do is relax and play with your trains or even better give them all a good service so that they will run even better.
Worrying is not going  to help just follow the health guidelines and carry on.
More and more people are accessing the web via smartphones and tablets and I realised that my previous website did not fit well in this environment. Thanks to WordPress that hosts my site I have changed the theme and now this site works better on these smaller screens. However the change has meant that some of the paragraphs have become disjointed and I will have to go through every page on the site to make sure that these faults are corrected. I have started but it may take some time.
I have a reasonable collection of the common HD locos but as I baulk at spending a great deal of money on the rare ones I have augmented the collection with Wrenn, Trix, Triang and other 3 rail conversions. They might not be original but they add interest to the running which to me is the prime objective of the layout.
Click on the News button to find out what is happening on the layout with new acquisitions and other changes.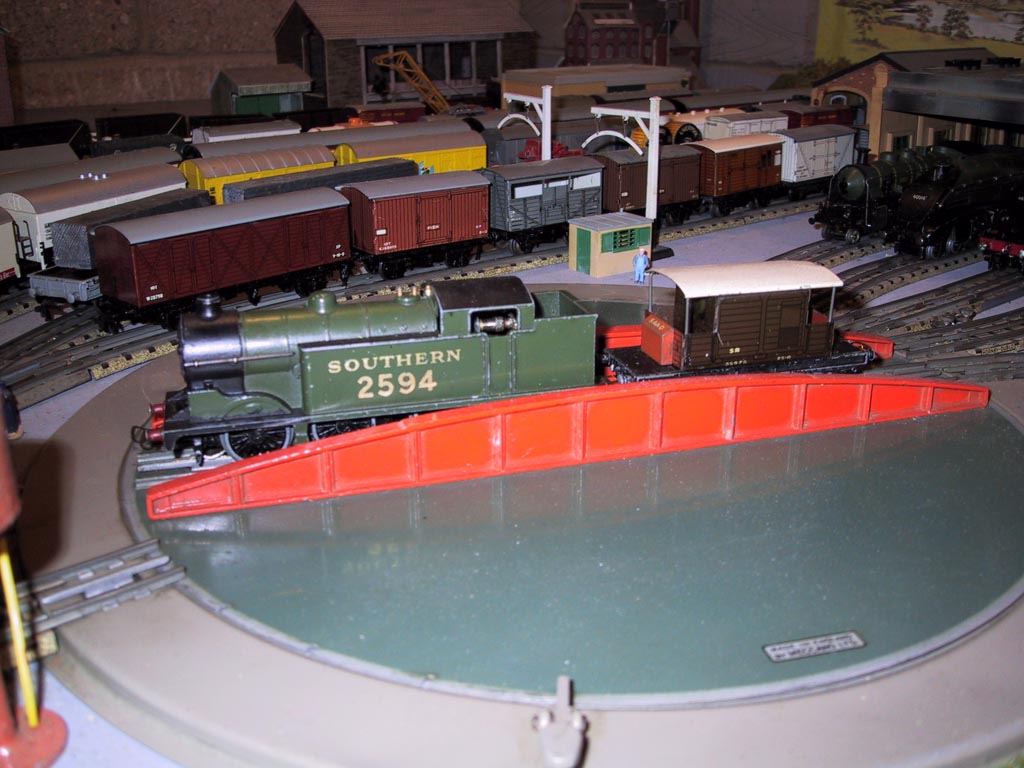 The Layout button links to a history of the layout and the build of the extension with relevant pictures. Information and help for building your own layout. This is now a very large page with jump buttons enabling quicker navigation. It also has many many helpful comments at the bottom of the page. In addition there is now a tab for Other Layouts which currently has information on 5 three rail layouts. Everything you could ever want to know if you are thinking of building a 3 rail layout.
The Links button connects you to other layouts, restorations, repairs and sales plus prototype railway sites. There are over 70 links on my Links Page and it is the most popular page on the website. These links cover Dublo, Trix, Triang Wrenn and other old railway systems, information, items for sale and also some websites on prototype railways in the UK. They are checked at least once a month and there should be no broken links. Well worth a browse.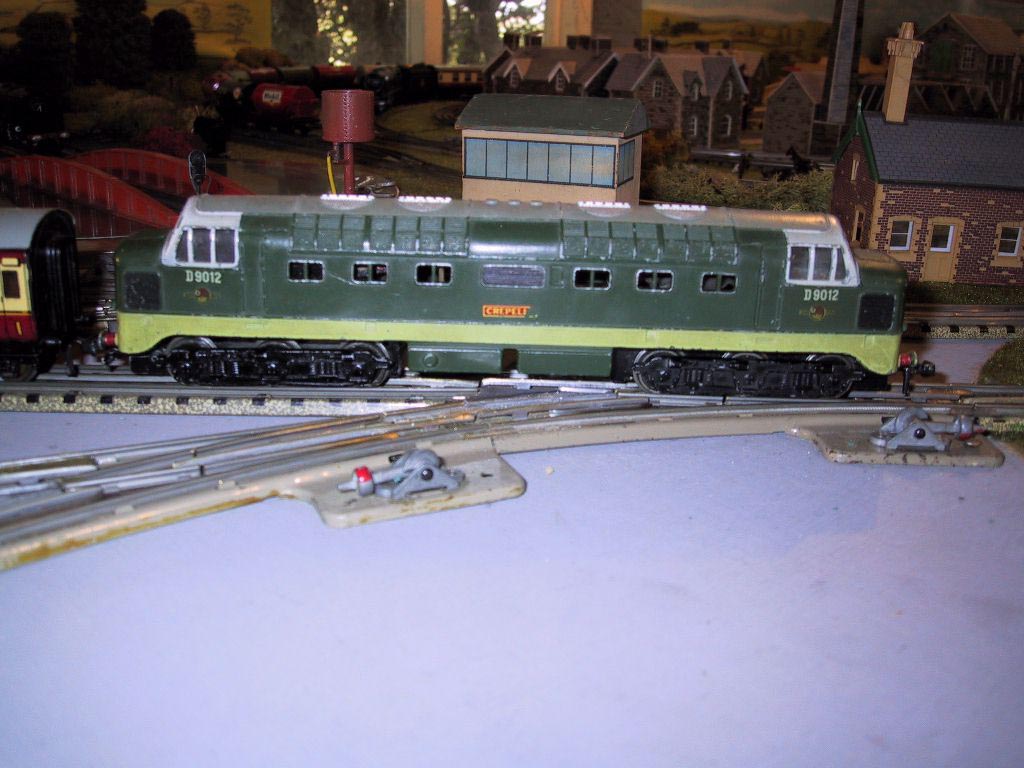 The Photos link is currently a work in progress at the moment. I have removed the link to a Picasa site and replaced it with some pictures of my engines. Not sure that this works very well but I will reflect and perhaps change it again in the future. The new software enables me to easily add a picture to a post so I will make sure that all new posts have relevant pictures. Click on the picture to enlarge.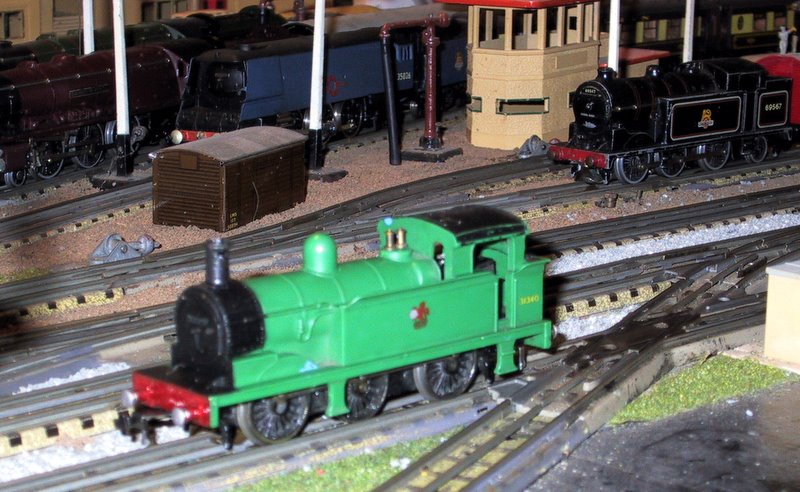 The following links have comprehensive pictures so you can click on the thumbnail to enlarge and then watch the pictures as a slide show. This capability might well remove the need for a photo album.
The HD Locos link gives pictures and the background to my collection of HD 3 rail locos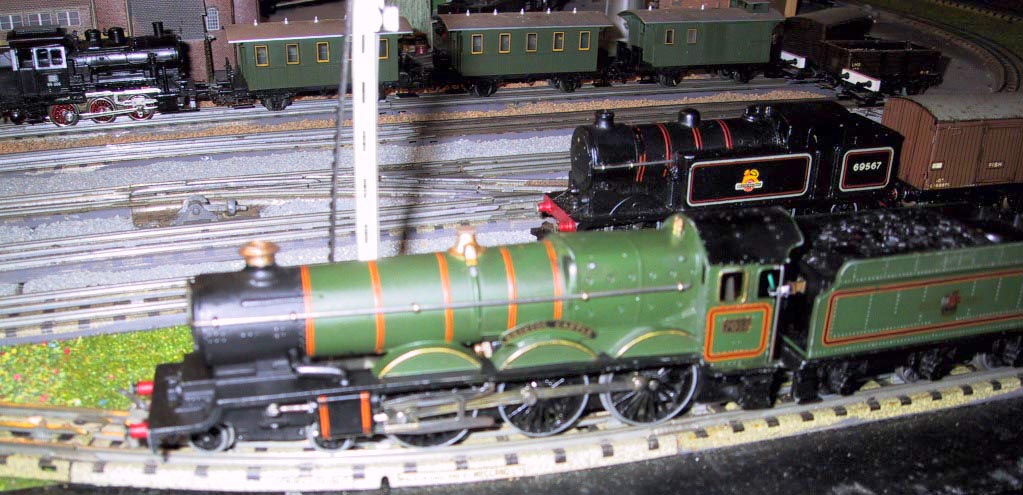 The Modified HD Locos Link gives pictures and background to HD based locos which have been repainted, re-bodied or converted from 2 rail to 3 rail.
Click on the Wrenn locos and see which ones I have that have been converted to 3 rail operation.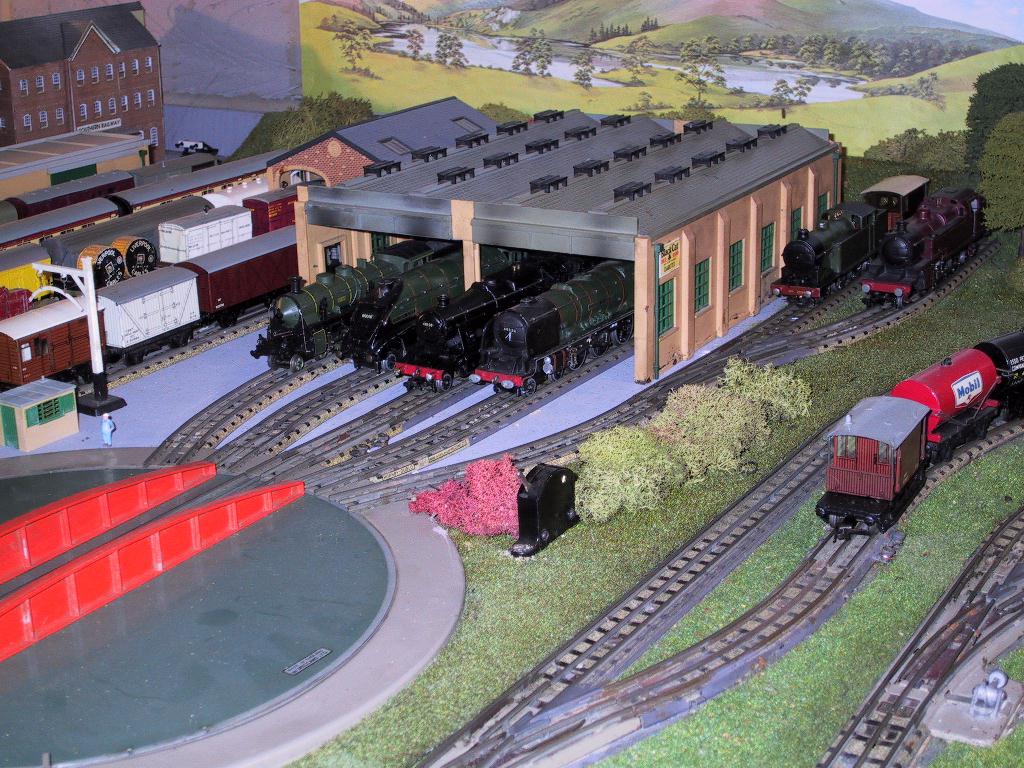 Currently the site does not have a spam problem so comments are fully active. Please leave a comment on anything that interests you. I check the site at least 4 times per week so you can expect a prompt reply.
Many thanks for looking and enjoy your own 3 rail running.
Keep up to date using the RSS Feed.